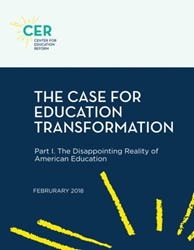 WASHINGTON (PRWEB) February 21, 2018
Education gaps, access to training, technology and lack of options all add up to a 'disappointing reality' for most US citizens, according a new report authored by Dr. Cara Candal, Research Fellow at the Center for Education Reform.
"This gap in access leads to staggering achievement gaps of six years of learning between low-income students and their more affluent peers," writes Candal, an expert educator and assessment specialist who has worked in and studied classrooms in the US and abroad.
Roughly 43 percent of American children are growing up in low-income households without access to quality education options. In some other nations, the bleakness for these young, which later translates into high illiteracy rates and workforce challenges, is rarely tolerated. As the report documents, other countries have higher standards of rigor in all schooling, subsidize early childhood education, invest heavily in curriculum and teachers and provide parents widespread flexibility to choose schools.
The US has one of the most deeply inequitable systems of education in the world. "The US is not an outlier when it comes to racial, ethnic and socioeconomic diversity," Candal explains, "it just doesn't do as good a job of providing access to high quality options for all students."
The first in a series, The Case for Education Transformation is available online at edreform.com. For interviews with Dr. Candal please contact CER at 202-750-0016.