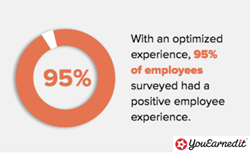 Austin, TX (PRWEB) February 21, 2018
YouEarnedIt, the leading HR SaaS company that improves bottom-line performance metrics by enhancing the employee experience, today released The Employee Experience Optimized, a survey of more than 2,000 full-time employees revealing the business impact of the employee experience, building blocks that lead to high-performing cultures, and how companies can quantify ROI from these initiatives.
The national research study uncovered 10 Culture Building Blocks that embed the pillars of the employee experience - connection, meaning, impact, and appreciation - into corporate culture in a measurable and actionable way. Not only do each of the Building Blocks serve as a leading indicator of the quality of an employee experience, but 85% of survey respondents reported they directly impact their employee experience. In addition, when leadership owns these building blocks and leads by example, 95% of employees have an excellent employee experience.
The 10 Culture Building Blocks are:

Opportunities for ownership, creativity, and innovation at work
Clear understanding of company and team goals
Swift and transparent company-wide communication
Regular feedback on and appreciation for day-to-day work
Flexibility to meet demands of personal and professional life
Strong, positive relationships between team members
Knowledge of how individual work makes a difference in company or team success
Positive, trusting relationships with managers
Opportunities for professional growth and continued learning
Sense of pride for what the company does and stands for
"Offering a great employee experience is a critical factor in recruiting and retaining top talent, yet many executives are not taking ownership of their organization's culture," said Autumn Manning, co-founder and CEO of YouEarnedIt. "Leaders who continue to ignore the connection between the employee experience and the results of their business are blind to the opportunity before them and will inevitably fall behind in key performance areas. If you want to thrive in today's competitive business and talent markets, you have to put your employees first and be proactive in the culture you create."
The Employee Experience Optimized also found that businesses today fall into three distinct categories when it comes to employee experience: Baseline, Better, and Optimized. At Baseline, the lowest level, companies offer very little, if anything, outside of a benefits package and a paycheck. For Better, the next level up, companies invest in the culture building blocks, but their leadership is not actively involved, which will cause the employee experience to remain flat.
In the top level to strive for, an Optimized employee experience, companies purposefully embed the culture building blocks and their company core values throughout their organization, executives live out core values, and the organization supports a rich day-to-day experience.
To read The Employee Experience Optimized, download the full report.
About This Research
YouEarnedIt set out to better understand the business impact of the employee experience and how companies quantify the ROI from these initiatives. YouEarnedIt surveyed more than 2,000 full-time employees in various company sizes, industries, and job levels to understand what culture looks like in organizations today, what constitutes a high-performing culture, how the employee experience impacts business success, and how much the 10 Culture Building Blocks matter to their employee experience.
About YouEarnedIt
YouEarnedIt is the employee experience platform powered by the science of motivation and the mission of improving the lives of employees everywhere, one company at a time. Founded in 2013, YouEarnedIt grows company culture and improves bottom-line performance metrics through its robust engagement platform that delivers recognition, rewards, incentives, and team insights. Named to Entrepreneur Magazine's list of Best Company Cultures in 2017, the Austin-based SaaS company and its technology platform are built on the four pillars of employee experience: connection, meaning, impact and appreciation. To request a demo, visit http://www.youearnedit.com/demo.