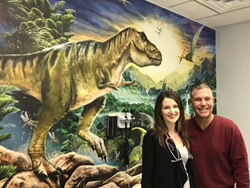 "It is my hope," explained Dr. Deeb, "that these improvements will make it easier to continue providing personalized, one-on-one attention in a cheerful and comforting environment."
ATLANTA (PRWEB) February 21, 2018
For the past seventeen years, Atlanta board-certified pediatrician Dr. Raymond J. Deeb has provided immediate medical care and well-child check-ups to thousands of infants, children, adolescents, and teenagers throughout the Atlanta metropolitan area. Recently, Dr. Deeb has had the opportunity to expand his Briarcliff Pediatrics practice by welcoming a second board certified pediatrician, Dr. Ashley N. Brown. In addition, he has also remodeled the Briarcliff Pediatrics office in Tucker and launched a newly redesigned web site. "It is my hope," explained Dr. Deeb, "that these improvements will make it easier to continue providing personalized, one-on-one attention in a cheerful and comforting environment."
A native of Luverne, Alabama, Dr. Ashley N. Brown graduated from the University of Alabama School of Medicine in 2012 and completed her Pediatrics residency at UAB and Children's of Alabama, the third largest children's hospital in the nation. Two years of subspecialty training in Pediatric Critical Care Medicine (PICU) at Children's of Alabama has given her extensive experience treating critically ill children, both in Alabama and across the entire Southeast. Dr. Brown is board certified by the American Academy of Pediatrics and has already established long-lasting relationships with patients that she looks forward to building for many years to come.
In addition to expanding the number of Briarcliff Pediatrics providers, Dr. Deeb has also refurbished the entire Briarcliff Pediatrics office. All of the examination rooms, as well as the separate sick-child and well-child waiting rooms, have been furnished with vibrant colorful murals that feature fairy tale scenes, African wildlife, marine life, and even dinosaurs. There are also numerous photographs that Dr. Deeb has taken while on trips to countries all around the world. "I chose this décor because I wanted to emphasize the value of a diverse and multicultural world," said Dr. Deeb. "I wanted to create an atmosphere of trust and mutual respect, where the highest quality medical care can be administered to all children."
Finally, Briarcliff Pediatrics is excited to announce their completely redesigned website, which features a regular blog covering the latest topics in children's health care. As long-time advocates of patient education, both Dr. Deeb and Dr. Brown believe that when parents are well-informed about the science behind children's health, they make better decisions that lead to better long-term outcomes. You can read more about Briarcliff Pediatrics, read the regularly updated blog, and even see some pictures of the amazing new murals and happy patients, at briarcliffpediatrics.com.
About Briarcliff Pediatrics:
Founded in 2001 by board certified pediatrician Dr. Raymond J. Deeb, Briarcliff Pediatrics is a full service children's health care practice that provides preventive care medicine, well-child checkups, immediate care appointments, and referrals to sub-specialists for newborns and children up to the age of 18. The entire Briarcliff Pediatrics staff is dedicated to providing excellent medical care to all children in a setting that is both professional and comfortable for our patients and their loved ones. Briarcliff Pediatrics is currently accepting new patients and offers same day appointments. You can contact Briarcliff Pediatrics at (770) 939-7676 or at briarcliffpediatrics.com.