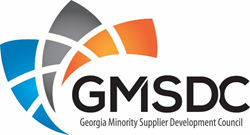 ATLANTA (PRWEB) February 23, 2018
The Georgia Minority Supplier Development Council announced a landmark partnership with NOW Corp at its 4th annual Financial Summit on February 21st. The GMSDC, the state of Georgia's leading advocacy organization for small business development and supplier diversity, brings together small businesses and corporations in Georgia for mutually beneficial business partnerships. The Summit – which focuses on access to capital and financial acumen for small business – is the perfect venue for the announcement of the GMSDC NOWaccount program, a partnership that will allow the GMSDC's Minority Business Enterprise constituents to practically eliminate Accounts Receivable by receiving timely payment of invoices. The program, which offers special rates to GMSDC certified MBEs, is a first-of-its-kind initiative that will be a game changer for small business in Georgia.
Stacey Key, the President and CEO of the GMSDC, understands that the GMSDC NOWaccount program will change how business is done in Georgia. "Our constituents are feeling the pinch of extended payment terms and other cash flow obstacles in supply chains across the board," she says. "This partnership is critical to our primary mission – to meet the needs of Georgia's small business community and assist them in doing business with corporate America. This program is going to change the landscape significantly for our constituents, enabling them to navigate the peaks and valleys of today's marketplace more effectively. We are excited about the potential of this much-needed initiative."
"There is a natural synergy in our relationship with the GMSDC," says Archie Jones, the Chief Financial Officer of NOW Corp. "The GMSDC is a recognized leader in supplier diversity, serving a constituency that is a perfect fit for the NOW Corp and its NOWaccount Payment System," says Jones. "With all of the financial impacts that global supply chains can have on a small business, managing the scope and scale these clients require can be quite a challenge. Our program is designed to relieve that pressure by smoothing out the cash flow process for these companies. This partnership is a win for small business." NOW Corp, a B2B payments company headquartered in Atlanta, offers multiple tiers of service and speeds of payment, to give options to the small business owner based on individual cash flow requirements.
The annual Financial Summit – Access to Capital was held at the Federal Reserve Bank of Atlanta on February 21ST. Presented by the GMSDC in partnership with the small business community, lenders, and industry experts, the event brings together the finance community and small business owners for a full day of workshops and activities focused on financial acumen and access to capital.
About the GMSDC
The Georgia Minority Supplier Development Council, Inc. (GMSDC) is a not-for-profit organization that fosters value-driven partnerships that may otherwise not be possible between corporate entities, ethnic minority-owned businesses and governmental entities in the state of Georgia. With over 400 national and local corporate members and more than 700 certified minority business enterprises, the GMSDC has served for more than 40 years as a leader in supplier diversity and minority business development. The GMSDC is headquartered in Atlanta and is an affiliate of National Minority Supplier Development Council. For more information on GMSDC NOWaccount call 404-589-4929 or visit GMSDC.nowaccount.com
About NOW Corp®
NOW Corp is a payments company headquartered in Atlanta, GA that is redefining how B2B businesses get paid. NOW Corp's mission is to enable businesses to Grow Fearlessly and to stop being a free bank to their customers. The NOWaccount® payment system enables businesses to get paid immediately in a way that feels like accepting a credit card for payment even when their customer does not offer a card and requires an invoice that lets them pay later. Businesses that use the NOWaccount payment system are able to grow exponentially and reach larger customers and contracts without the stress that comes from waiting to get paid or the risk associated with using loans, factoring or financing programs.