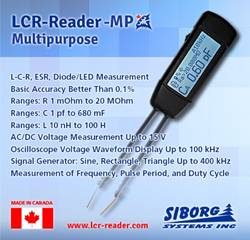 Siborg celebrates 6 months of the release of LCR-Reader-MP: ultimate circuit board testing device. The device is now available globally from distributors.
WATERLOO, Ont. (PRWEB) February 21, 2018
LCR-Reader-MP was introduced in August of 2017; to celebrate, Siborg Systems Inc. is offering a discount on the device. The LCRR-MP is now available worldwide, on the LCR-Reader Store and Siborg's Amazon sales channels as well as from many global resellers listed below. The device will go on sale starting March 1st until March 8th, 2018.
LCR-Reader-MP is the ultimate circuit board debugging tool with the highest basic accuracy and many more features than any Smart Tweezers or LCR-Reader device before it. The LCRR-MP combines a set of gold-plated tweezers with an LCR/ESR-meter with a 0.1% basic accuracy. When a component is between the tweezers, the device will automatically determine the type of component and best test parameters. Measurement values, including secondary impedance values, the component type and test frequency are instantly available on the built-in back-lit display.
The MP sets itself apart from other multimeters with a record high basic accuracy and features like oscilloscope mode, LCR/ESR measurements, continuity/short and LED/diode testing, signal generator, pulse counting, AC/DC voltage measurements, large capacitance testing and more. An added 100 kHz test frequency is one of the most important features; this test frequency allows for a 0.01 pF resolution while testing capacitance and less than 1 nH resolution for inductance. The Large Capacitance mode is able to measure large capacitances and super-caps up to 680 mF. This is in part due to adding a wider range of test frequencies (50, 100, 120 Hz, 1, 10, 20, 30, 40, 50, 60, 75 and 100 kHz and 25, 100, 120 Hz.) The device uses the test frequency of 25 Hertz when the Large Cap mode is selected to provide better accuracy.
The Oscilloscope mode was a returning feature that many customers missed since the Smart Tweezers ST-1 model. It allows to plot wave-forms on an analog graph. The Oscilloscope, and the Signal Generator modes are especially useful when used with the Kelvin Probe Connector from Siborg. This connector kit turns any LCR-Reader-MP, LCR-Reader or Smart Tweezers device into a full probe station. Siborg has recently begun offering the connector PCB for customers who wish to create their own Kelvin Probe Connector.
Siborg offers the LCR-Reader-MP through their online store and Amazon sales channels as well as many global distributors, including:

Advance Tech Services (New Delhi, India; Bangalore, India; Pune, India)
Van Device, Co. Ltd. (Tokyo, Japan)
Newly Tsuchiyama Co. Ltd. (Kanagawa-Ken, Japan)
Weifang Herui Co, (Weifang, Shandong, China)
SIBBIS International (Maryland, USA)
Bokar International (Pennsylvania, USA)
Tinotec Corporation (Taiwan, China)
PrinTec b.v. (Geldermalsen, Netherlands)
Lokmita (Kaunas, Lithuania)
V-Proud Joint Stock Company (Hanoi, Vietnam)
Indochina Equipment and Accessories Joint Stock Company (Hanoi, Vietnam)
CVKT International (Nagoya Batam, Indonesia)
SPE Group (Novosibirsk, Russia)
Sanata-Tech (Saint Petersburg, Russia)
LCR-Reader-MP is FCC compliant and each device comes with an NIST Traceable Calibration Certificate .
Features on LCR-Reader-MP

Automatic and manual LCR, ESR, LED/Diode measurements
0.1% basic accuracy
Diode/LED and Continuity Testing
AC/DC voltage/current measurements
Oscilloscope Transient Voltage display up to 100 kHz
Frequency, Pulse Period, and Duty Cycle measurements
Oscilloscope Transient Voltage display up to 100 kHz
Active and reactive impedance component display
Two test signal levels, Automatic Test Signal Reduction to 0.1 V for in-circuit measurements
Measures components to a 0201 size (about 0.3 mm)
Under 2 oz. weight
Li-Ion battery and micro-USB charging
NIST traceable calibration certificate
Siborg's sale for LCR-Reader-MP begins on March 1st, 2018 to celebrate the MP's success since its debut. Visit the LCR-Reader Store to see all of Siborg's testing tools, including Smart Tweezers LCR-meter with blue tooth connection, LCR-Reader and Smart Tweezers, Smart LED Test Tweezers and more.