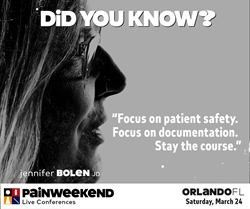 As regulators and legislators escalate their action in response to the crisis of opioid abuse and misuse, prescribers must take steps to stay current on legal and regulatory changes
MONTCLAIR, N.J. (PRWEB) March 06, 2018
PAINWeekEnd on March 24 at the Marriott Orlando Downtown, 400 West Livingston Street, will be an educational and exciting full day program providing busy clinicians and allied healthcare practitioners with 6.0 hours of relevant, practical instruction in the management of chronic pain.
New legislation moving through the Florida House and Senate would restrict prescriptions for Schedule II medications to 3 days, with an exception for 7 days with sufficient documentation of medical necessity. If passed and signed by Governor Rick Scott, who supports the plan, Florida would join just 2 other states with such restrictive prescribing limitations. The law also seeks to enhance the use of the state's prescription drug monitoring database by making "prescriber or dispenser" consultation of the PDMP mandatory before issuing a prescription. Currently, Florida has no such requirement. Commenting on the initiative, Jennifer Bolen, JD, who will be among the presenters at PAINWeekEnd Orlando, said, "As regulators and legislators escalate their action in response to the crisis of opioid abuse and misuse, prescribers must take steps to stay current on legal and regulatory changes that may affect their practice and their patients. I look forward to sharing with PAINWeekEnd attendees some insights on documentation for medical necessity, and on the clinician's legal obligations in response to overdose." Bolen is the Founder of Legal Side of Pain, in Knoxville, Tennessee. At PAINWeekEnd Orlando, she will be presenting Embrace Changes and Prevent Overdose: A Basic Blueprint for Legal Risk Mitigation and Response, along with Get Your Specimens in Order: The Importance of Individualized Test Orders and Timely Test Utilization.
Commercially supported activities—addressing a range of product, disease state, and medical information topics—will also be presented.
Online registration fee for this PAINWeekEnd Conference: $129. PAINWeekEnd registrants may register for the 2018 PAINWeek National Conference, September 4-8, in Las Vegas, for $200 off the current online published price.
PAINWeekEnd is provided by Global Education Group. About Global Education Group:
Global Education Group focuses on producing partnership-based CME for healthcare practitioners. The Global team works with a select group of medical education companies, associations, academic institutions and healthcare facilities to develop and accredit live healthcare conferences and workshops as well as online activities. With each partnership or joint providership, Global brings accreditation expertise, project management excellence and grant funding intelligence. Based in Littleton, Colo., Global has accreditation with commendation from the ACCME. Global also holds accreditations to offer continuing education for nurses, nurse practitioners, pharmacists, dietitians, dentists and psychologists. Global is a division of Ultimate Medical Academy.