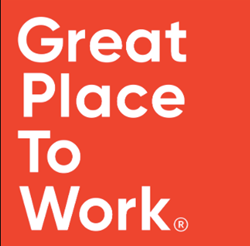 CHICAGO (PRWEB) February 22, 2018
Maven Wave Partners was certified for the second year in a row as a great workplace today by the independent analysts at Great Place to Work®. Maven Wave earned this credential based on extensive ratings provided by its employees in anonymous surveys. A summary of these ratings can be found here.
"Maven Wave's growth is largely affected by the ambitious drive of our team members. When our people are highly engaged, collaborating, and productively enabled, the company sees fantastic growth" said Jeff Lee, Maven Wave co-founder.
"We applaud Maven Wave Partners for seeking certification and releasing its employees' feedback," said Kim Peters, Executive Vice President of Great Place to Work's Certification Program. "These ratings measure its capacity to earn its own employees' trust and create a great workplace - critical metrics that anyone considering working for or doing business with Maven Wave should take into account as an indicator of high performance."
"According to our study, 95 percent of Maven Wave employees say it is a great workplace," says Sarah Lewis-Kulin, Vice President of Great Place to Work Certification & List Production.
Maven Wave employees completed 68 surveys, resulting in a 90 percent confidence level and a margin of error of ± 3.75.
About Maven Wave Partners
Maven Wave helps leading companies make the shift to digital and shorten the fuse to innovation. Maven Wave combines the expertise and discipline of top-tier consulting and the agility you'd expect from a cutting-edge technology firm. This multidisciplinary blend of skills allows us to create unique digital advantages for our clients. As a Google Cloud Premier Partner, Maven Wave's digital solutions are agile, mobile, rooted in analytics, and built in the cloud.
About Great Place to Work®
Great Place to Work® is the global authority on high-trust, high-performance workplace cultures. Through proprietary assessment tools, advisory services, and certification programs, including Best Workplaces lists and workplace reviews, Great Place to Work® provides the benchmarks, framework, and expertise needed to create, sustain, and recognize outstanding workplace cultures. In the United States, Great Place to Work® produces the annual Fortune "100 Best Companies to Work For®" list and a series of Great Place to Work® Best Workplaces lists including lists for Millennial's, Women, Diversity, Small and Medium Companies and over a half dozen different industry lists.