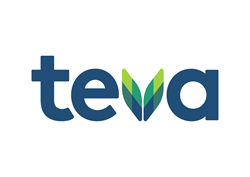 FRAZER, Pa. (PRWEB) February 21, 2018
• The new brand will roll out globally throughout 2018, focusing on the most impactful brand touch points

New positioning draws on insights from more than 13,500 patient voices globally
Visual identity to include new logo, product packaging and digital resources
Minimal additional financial investment will be required
Teva Pharmaceutical Industries Ltd. (NYSE and TASE: TEVA) today announced the rollout in North America of its new brand positioning and visual identity, including a new logo, as part of a global brand rollout.
The new brand positioning—Teva is committed to providing innovative and high-quality medicines to enable people around the world to live better days—is designed to incorporate the vision of the restructured company with Teva's untold story on how it impacts the lives of millions of people every day globally. It is also intended to align Teva with the evolving needs and expectations of the people the company serves—from patients to caregivers to healthcare professionals, as well as employees and other key stakeholders—and to build an identity that unifies its businesses around the world after decades of acquisitions.
Teva is rolling out the new brand in the U.S. and Canada this month, following successful rollouts in France, Russia and Argentina over the past year. Launches in additional markets are planned throughout 2018. Brendan P. O'Grady, Teva EVP and head of North America Commercial, said: "The new brand is integral following the restructuring plan we are executing to facilitate our transition to a simpler, leaner and more agile organization, making our mission to bring valuable medicines to patients easier to execute. Following the embedding of the brand within our people, we will continue to evolve to ensure a consistent experience across our diverse portfolio."
Rather than taking a top-down approach, Teva opted to drive the global rollout of the new brand from the bottom up, using a hyperlocal implementation plan. Specifically, to build local relevance into a global framework, Teva is leveraging country-specific insights to evolve its value proposition and to reflect the nuances of each market, including its business model and portfolio; the local healthcare system; and the specific needs of that market's patients, caregivers, and healthcare professionals.
"Launching a new brand on the heels of a restructuring isn't necessarily intuitive," O'Grady said. "For us, it provided an opportunity to evaluate how to best meet the current and evolving expectations of patients and healthcare professionals while we also were looking at ways to reduce our internal complexity and unify our organization. The new brand helped us galvanize internally around a new Teva and emerged as a vehicle for simplification and unification."
Iris Beck-Codner, Teva's Executive Vice President for Global Brand and Corporate Communications, added: "Our focus is on redesigning the most impactful touch points that people have with our company based on consumer and patient insights—namely, our product packaging, promotional materials for healthcare professionals and consumers, and digital resources—to evolve our proposition, as well as ensure that every touch point differentiates and reinforces the new Teva."
The new logo is intended to convey Teva as approachable, accessible and modern—a company that listens and delivers high-quality products and treatments—while improving legibility and recognition. The new logo is designed to combine the company's scientific rigor with an accessible and open personality. Teva selected a new shade of green for its visual identity, opting for one that conveyed warmth, approachability and action.
The new global brand positioning was developed using insights gained from speaking to over 13,500 patients, 9,300 caregivers and 1,000 healthcare professionals from 20 countries between 2015 and 2017, all with a goal of understanding how health and illness are impacting people's lives. Teva already is capitalizing on several of these insights to inform new packaging design, content for its digital resources and educational initiatives in specific countries.
As an example, Teva found that 63 percent of people globally want advice about how to take better control over their health; they want emotional and functional support, convenience, and access to trusted and understandable information. The company also learned that 47 percent of people surveyed were caring for someone with a health condition, a large population of caregivers that remains under the radar of the healthcare industry.
"As part of the activation of the new brand in each market, we are evolving our offering based on what we heard from real people and through primary and comprehensive research. This provides rich insights into how people approach their health journey, as well as their needs, frustrations and expectations, enabling us to build a true global brand with local relevance in which the patient is at the heart of what we do," Beck-Codner said.
In the U.S., Teva is partnering with patients to explore how living with a chronic condition affects every part of an individual's life. Later this year the company will launch a digital portal offering content and resources to patients and their loved ones—enabling them to take greater control of their health.
New product promotional materials for HCPs and patients are starting this month, while new packaging is expected to roll out in Q2. Teva already has transformed its U.S. website, tevausa.com, and corporate global website, tevapharm.com, to reflect its new brand identity.
In Canada, Teva's research highlighted the strong needs around information and support for the more than 8 million Canadians who provide informal care to a family member or friend. In response to this need, Teva is working with a local partner to train pharmacists to better respond to the needs of caregivers, as well as connecting caregivers to one another for guidance and emotional support.
"Of course this is a process, and we will continue to evolve the Teva brand in these and other markets," Beck-Codner said. "Recognizing our financial situation, we are managing each launch in a way that makes the best use of existing resources and plans, with minimal additional financial investment."
About Teva
Teva Pharmaceutical Industries Ltd. (NYSE and TASE: TEVA) is a leading global pharmaceutical company that delivers high-quality, patient-centric healthcare solutions used by millions of patients every day. Headquartered in Israel, Teva is the world's largest generic medicines producer, leveraging its portfolio of more than 1,800 molecules to produce a wide range of generic products in nearly every therapeutic area. In specialty medicines, Teva has a world-leading position in innovative treatments for disorders of the central nervous system, including pain, as well as a strong portfolio of respiratory products. Teva integrates its generics and specialty capabilities in its global research and development division to create new ways of addressing unmet patient needs by combining drug development capabilities with devices, services and technologies. Teva's net revenues in 2017 were $22.4 billion. For more information, visit http://www.tevapharm.com.
Source: Teva Pharmaceutical Industries Ltd.
Cautionary Note Regarding Forward-Looking Statements
This press release contains forward-looking statements within the meaning of the Private Securities Litigation Reform Act of 1995, which are based on management's current beliefs and expectations and are subject to substantial risks and uncertainties, both known and unknown, that could cause our future results, performance or achievements to differ significantly from that expressed or implied by such forward-looking statements. Important factors that could cause or contribute to such differences include risks relating to:

our generics medicines business, including: that we are substantially more dependent on this business, with its significant attendant risks, following our acquisition of Allergan plc's worldwide generic pharmaceuticals business; consolidation of our customer base and commercial alliances among our customers; the increase in the number of competitors targeting generic opportunities and seeking U.S. market exclusivity for generic versions of significant products; price erosion relating to our generic products, both from competing products and increased regulation; delays in launches of new generic products; our ability to take advantage of high-value biosimilar opportunities; efforts of pharmaceutical companies to limit the use of generics including through legislation and regulations; the difficulty and expense of obtaining licenses to proprietary technologies; returns, allowances and chargebacks; and investigations of the calculation of wholesale prices;
our specialty medicines business, including: competition for our specialty products, especially COPAXONE®, our leading medicine, which faces competition from existing and potential additional generic versions and orally-administered alternatives; our ability to achieve expected results from investments in our product pipeline; competition from companies with greater resources and capabilities; and the effectiveness of our patents and other measures to protect our intellectual property rights;
our substantially increased indebtedness and significantly decreased cash on hand, which may limit our ability to incur additional indebtedness, engage in additional transactions or make new investments, and may result in a further downgrade of our credit ratings; and our inability to raise debt or borrow funds in amounts or on terms that are favorable to us;
our business and operations in general, including: failure to effectively execute the recently announced restructuring plan; uncertainties related to, and failure to achieve, the potential benefits and success of our new senior management team and organizational structure; harm to our pipeline of future products due to the expected review of our R&D programs; our ability to develop and commercialize additional pharmaceutical products; potential additional adverse consequences following our resolution with the U.S. government of our FCPA investigation; compliance with sanctions and other trade control laws; manufacturing or quality control problems, which may damage our reputation for quality production and require costly remediation; interruptions in our supply chain; disruptions of our or third party information technology systems or breaches of our data security; the failure to recruit or retain key personnel; variations in intellectual property laws that may adversely affect our ability to manufacture our products; challenges associated with conducting business globally, including adverse effects of political or economic instability, major hostilities or terrorism; significant sales to a limited number of customers in our U.S. market; our ability to successfully bid for suitable acquisition targets or licensing opportunities, or to consummate and integrate acquisitions; and our prospects and opportunities for growth if we sell assets;
compliance, regulatory and litigation matters, including: costs and delays resulting from the extensive governmental regulation to which we are subject; the effects of reforms in healthcare regulation and reductions in pharmaceutical pricing, reimbursement and coverage; governmental investigations into sales and marketing practices; potential liability for patent infringement; product liability claims; increased government scrutiny of our patent settlement agreements; failure to comply with complex Medicare and Medicaid reporting and payment obligations; and environmental risks;
other financial and economic risks, including: our exposure to currency fluctuations and restrictions as well as credit risks; potential impairments of our intangible assets; potential significant increases in tax liabilities; and the effect on our overall effective tax rate of the termination or expiration of governmental programs or tax benefits, or of a change in our business; and other factors discussed in our Annual Report on Form 10-K for the year ended December 31, 2017, including in the section captioned "Risk Factors," and in our other filings with the U.S. Securities and Exchange Commission, which are available at http://www.sec.gov and http://www.tevapharm.com. Forward-looking statements speak only as of the date on which they are made, and we assume no obligation to update or revise any forward-looking statements or other information contained herein, whether as a result of new information, future events or otherwise. You are cautioned not to put undue reliance on these forward-looking statements.