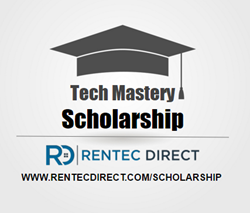 "Education is key to the future of our industry, and many others, especially when it comes to staying ahead of swiftly advancing technology," said Nathan Miller, president of Rentec Direct. "Helping the next generation of technology leaders succeed is important to us as a company, and our scholarshi
GRANTS PASS, Ore. (PRWEB) February 22, 2018
Rentec Direct, the leading property management software solution nationwide, is excited to announce the return of their Tech Mastery Scholarship for Spring 2018. The Tech Mastery Scholarship program from Rentec Direct aims to support the goals and dreams of future technology influencers.
The scholarship is offered to college and graduate students pursuing an education in computer science, software development or a closely related field. As part of the application process, students must submit a cover letter and 1,000-word essay. Entries are judged on creativity, humor and content. Rentec Direct will award up to four $500 scholarships to outstanding students with a GPA of 3.0 or higher.
"Education is key to the future of our industry, and many others, especially when it comes to staying ahead of swiftly advancing technology," said Nathan Miller, president of Rentec Direct. "Helping the next generation of technology leaders succeed is important to us as a company, and our scholarship program supports that goal."
The program is now in its third year. Essays and updates from previous scholarship winners, who attend U.S. colleges from coast to coast, can be viewed on the website.
For full details or to apply for the Tech Mastery Scholarship, students should visit https://www.rentecdirect.com/scholarship/. Submission deadline for Spring 2018 is April 15, 2018.
About Rentec Direct
Rentec Direct offers industry leading property management software and tenant screening solutions for real estate professionals. Features include online rent payments, tenant and owner portals, the industry's largest vacancy listing syndication network, full property, tenant, and owner accounting, 1099-MISC reporting, QuickBooks Sync and more.