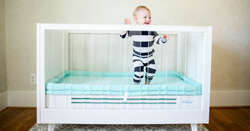 Your most important baby product purchase is which crib mattress to buy. This one decision could literally mean life or death and unfortunately our family speaks from experience of losing a baby just because they rolled over.
(PRWEB) February 22, 2018
All it takes is a baby to simply roll over while sleeping to drastically increase his or her risk of SIDS or accidental suffocation. After losing a loved one who had rolled over while sleeping, Julie Andreae knew there had to be a better way to keep babies safe. Now, after years of research, the safest crib mattress in the world is now on Kickstarter. It's called the SafeSleep BreatheTHRU Crib Mattress and its unique open-air design with side openings and air-permeable surface creates passive airflow that sustains an oxygen-rich environment for baby no matter what position they end up in - even if face down on the mattress.
"Your most important baby product purchase is which crib mattress to buy. This one decision could literally mean life or death. This is not a fear tactic or us being morbid, it's the true reality that babies sleeping on fiberfill mattresses and pads continue to die. Unfortunately for our family, we speak from experience, and we don't want any other child to be lost because they simply rolled over," shares Julie Andreae, Co-Founder and Inventor of the new SafeSleep BreatheTHRU Crib Mattress and Safe Sleep and SIDS content expert. "I have dedicated my career to education and needed product design changes that promote infant safe sleep."
So why is baby rolling over on a mattress a problem?
Safe Sleep policy makers believe Infants sleeping on their tummy or lying with soft bedding may rebreathe exhaled carbon dioxide. Rebreathing carbon dioxide leads to hypoxia and eventually death.
Here's how it works:
The BreatheTHRU crib mattress has no fill or core that can trap carbon dioxide. It consists of an open air design with side openings that create passive airflow. The topper is a 3D open weave fabric that allows air to flow up and down through the topper. Fresh air flows in and harmful carbon dioxide flows out and away from the sleeping baby.
Our mattress is scientifically proven to eliminate poisonous carbon dioxide retention ensuring a safe, oxygen-rich sleeping environment, even if baby is facing straight down.
Other Key Features and Benefits:

The air permeable design helps regulate a baby's body temperature. (Overheating is another risk factor of SIDS.) A stable core temperature results in a longer, better and safer sleep for baby.
The entire topper is easily removed for laundering resulting in a more sanitary sleeping environment for your baby. Simply throw it in the washing machine and dryer. If baby spits up, it dries in minutes by air eliminating the risks associated with liquids pooling under a baby's face.
We also made sure to use high-end, eco-friendly and organic materials. Our mattresses are made from recycled materials and are recyclable, too! No chemicals are used or needed for waterproofing or fireproofing. We use no adhesives or corrosive materials. We don't use latex or wool because they can trigger allergies.
"Every inch of this mattress has been carefully designed with a baby's safety in mind. These mattresses are so safe, physicians write prescriptions for infants who must tummy sleep for health reasons," adds Andreae.
So what are others saying about this amazing invention?
After losing his baby while sleeping in a pack n play, David Karow shares his tragic story with others to promote safe sleep. "There's no doubt in my mind that our daughter, Abby, would be here today if she were sleeping on a BreatheTHRU Crib Mattress."
"My baby sleeps much better on the BreatheTHRU Crib Mattress. We love it" – Nicole S.
"Everyone in our house is getting better sleep since having the BreatheTHRU Crib Mattress." – Heather F.
"This mattress is a game changer for safe sleep. This Kickstarter Project will finally start the conversation we desperately need about safe sleep practices for babies as a majority of parents know to always place their infant on their back for sleep, but they have no answers of what to do when their baby starts rolling," adds Andreae.
The SafeSleep BreatheTHRU Crib Mattress is backed by Scientific Data and endorsed by leading medical professionals and child safety experts. Please view / support the project on Kickstarter: https://www.kickstarter.com/projects/137269894/safesleep-breathethru-worlds-best-crib-mattress
Contact Tasha Mayberry, SafeSleep Publicist, to schedule an interview or to request images and/or a sample.
About SafeSleep
After losing a loved one to SIDS two moms and sisters teamed up to create the safest crib mattress in the world – a completely breathe through crib mattress. This is the only mattress to address the risk of a baby rolling over and sleeping on their tummy.
Back sleeping is best, but all infants begin to roll, some as early as two-months-old. The death of infants found on their tummy on fiberfill crib mattresses, soft, quilted, and even mattresses with natural and artificial cores designed to be breathable, continues to occur...so SafeSleep created the only Completely Breathe-Through Crib Mattress and for an affordable cost so it can be available to all families. SafeSleep is on a mission to educate all parents on what to do and not to do when baby sleeps. SafeSleep will launch SafeSleep Partners where parents can take a pledge of safe sleep and receive free education and resources.
Social Media Links:
Facebook (100k likes!)
Twitter
Press Inquiries Contact:
Tasha Mayberry, Publicist
text/cell: 207.317.6099 (text messages are welcomed)
email: tasha(at)socialmedia22(dot)com