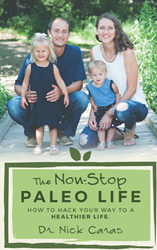 "The Paleo Diet is much more than a Diet; it's an entire lifestyle." - Dr. Nick Caras
Denver, CO; Chicago, IL; New York, NY; Atlanta, GA; Los Angeles, CA; San Francisco, CA, (PRWEB) February 22, 2018
Internationally recognized Paleo coach, researcher and blogger, Dr. Nick Caras has launched an empowering new book titled, "The Non-Stop Paleo Life – How to Hack your way to a Healthier Life." After years of research and clinical practice, Dr. Caras has put his entire paleo lifestyle coaching program into one book and is now available on Amazon, Kindle and other fine retailers. The book shares Dr. Caras' personal lifestyle strategies that he uses for his family of four and well has his clients across the globe. This lifestyle blueprint empowers individuals and families to take their health, wealth, wellness and longevity to an entire new level.
When contacted at his Highlands Ranch, CO office, Dr. Caras said, "The Non-Stop Paleo Life is for anyone who is looking for an easier way to lose weight, look better, feel better, raise healthier kids, be more productive, and those who just need more time and energy without adding hours to their day." In fact, Dr. Caras mentioned you will actually save hours throughout the week with his life-hacks, bio-hacks, and high intensity interval training protocols that are laid out in his latest book. The Non-Stop Paleo Life is a follow-up to Dr. Caras' 2009 Best-Seller titled "Detoxify Your Lifestyle." Once again, Dr. Caras' easy to read format lays out all the steps so you can start implementing his new lifestyle tips and tricks today.
Dr. Caras went on to say, "A huge problem in America is most people, especially parents just do not believe they have the time, money and energy to live a healthy, paleo-centered life. This is because every new diet & exercise program takes way too much time out of your day. From preparing meals and snacks to long exercise programs; none of us have the time. This is why chapter 9 in my book goes through what I coined Paleo-Hacks." I lay out for you the top 36 Paleo Hacks I am currently using in my life in 2018. These are my 36 favorite lifestyle tips and tricks to keep you healthy without taking much time, energy or money.
The Non-Stop Paleo Life – How to hack your way to a Healthier Life will teach you:

The top thirty-six "paleo hacks" to help you transition into your new lifestyle.; 
The substitutions you can make with healthier, anti-inflammatory ingredients;
The most effective way to exercise through high-intensity interval training; 
The best methods to detoxify your body;
How to stay healthy, wealthy and wise while raising a busy family;
The beneficial effects of chiropractic on your Immune system; and 
The hidden dangers of inflammatory foods and how they affecting your metabolism
Among his many accomplishments, Dr. Nick Caras is an author, paleo & lifestyle coach, researcher and has been in private practice helping thousands of patients since 2004. His #1 job today is raising 2 beautiful daughters within the paleo lifestyle premises. He currently resides in Highlands Ranch, CO – a suburb of Denver, CO.
Dr. Caras further commented, my mission is simple – To teach and educate people how to feel and look great without the need for medicines and surgery as well as how to raise a healthy, active and energetic family.
For more information on "The Non-Stop Paleo Life" and to grab a copy (with the limited launch bonuses that are being offered with today's purchase), visit http://www.NonStopPaleo.com. This easy to read book provides the guidance, resources, tools and know-how that will make you wishing you knew this information a long time ago. Here's to your health & Longevity!
Visit http://www.NonStopPaleo.com to learn more about Dr. Nick Caras and to get Dr. Caras' top 36 Paleo-Hacks for FREE today which Dr. Caras lays out in chapter 9 of his book.