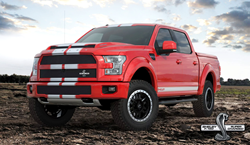 MIAMI (PRWEB) February 21, 2018
DEVOLRO, known for its custom tuning packages for Toyota Tundra models, has announced a new, custom tuning package for Ford lovers, available in April of 2018.
"After huge success with Toyota, we received many requests from Ford truck owners to create a DEVOLRO package for the most popular pickup truck in America," stated Eduard Orlov, President of DEVOLRO. "Listening to the wants of potential customers, we have shifted gears to add a new Ford F-Series to our custom turning portfolio. Currently, we are working on our first 2018 FORD F-150 Shelby by DEVOLRO edition."
DEVOLRO's new Ford F-150 package will include features such as:

Line-X polymer coating for the entire truck body
DEVOLRO 7" custom suspension lift kit
Custom DEVOLRO Real Steel Bumpers, both front and rear
Water package with snorkel
Soundproof and heat protection package
DEVOLRO wheels and off-road tires
Skid plate protection
Custom heavy-duty bed topper
LED light bar
Additional options will include B6 armor package, heated bed floor, auxiliary fuel tank and much more.
It all starts with looks: DEVOLRO tuning has a unique muscular look while at the same time having a brutal, manly, and elegant personality. When driving DEVOLRO in the city, you can be sure that you'll get more attention than a red Ferrari or green Lamborghini does; when you're back off-road, there is simply nobody to compete with.
DEVOLRO's major competitive advantage is the balance between all major upgrades and components of the Truck. For instance, when a set of heavy-duty bumpers, winches, and heavy-duty steel step bars are installed with a total gross weight increase of 850 pounds, DEVOLRO ensures to include this extra weight calculation when designing DEVOLRO custom suspension.
"As the best-selling vehicle in the United States since 1981 as well as in Canada, the Ford F-Series was an obvious next step for us," continued Eduard Orlov. "We're not stopping here, though. With the Ford F-Series tuning package in production, we're now working on a Toyota Sequoia special tuning package as well as creating custom tuning packages for Chevy Silverado, GMC Sierra, Dodge RAM, and beyond."
About DEVOLRO
DEVOLRO Performance Trucks Studio is elite American manufacturer of custom high quality, off-road specialty equipment. With its own professional production facility, DEVOLRO builds luxurious pickup trucks with superior off-road capability as well as comfort, style, and durability. All DEVOLRO products are manufactured in the United States of America from the highest grade local materials. Learn More About DEVOLRO
Contact
Devolro Performance Trucks
15701 NW 15th ave
Miami, FL 33169
786-765-0977
sales(at)devolro(dot)com
http://www.devolro.com
facebook.com/devolro
instagram.com/devolrousa