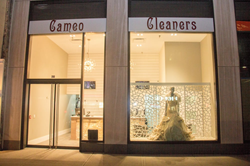 I've stored and cleaned all my winter clothes at Cameo for the last several years. Everything comes back beautifully cleaned and packaged. They are super professional and offer speedy pick ups and delivers. I totally recommend them!!!! - Elayne W.
(PRWEB) February 21, 2018
Cameo Cleaners, the premier couture dry cleaner and garment care service in New York for more than six decades, wishes its customers and friends a happy 2018. This comes at the end of a year of record growth and significant advancement in the business. Achievements include the launch of a new website, the creation of a mobile app and the opening of a posh new storefront.
"2017 has been an amazing year," said a spokesperson for the company. "We want to thank everyone who made it possible, especially our beloved customers. We wish everyone a great holiday season."
Looking to 2018, Cameo will continue to grow its business and augment its service offerings. "We are always looking for ways to serve our clientele better and in new ways," the spokesperson added. As fabrics and fashions evolve, high-end cleaners like Cameo must adapt and devise ways to care for and preserve garments.
In 2017, Cameo opened its remodeled flagship store located at 280 Third Avenue, near 23rd Street. The company's new multi-function website has elicited positive comments from customers and tangible growth in client engagement. The Cameo mobile pick-up app is also proving to deliver a better customer experience for today's on-the-go New Yorkers. Overall client growth in 2017 has been the strongest ever for Cameo. Customer feedback has been generally excellent as well.
Cameo's on-premises plant is capable of doing almost any type of cleaning. The company has served its customers continuously since 1958, trusted by such world-famous organizations as the Metropolitan Opera, Fashion Institute of Technology (FIT) and the Cooper Hewitt Museum. Cameo's other services include accessory and handbag care, fur glazing, garment restoration, cleaning of delicate interior fabrics such as curtains and Oriental rugs, bed linens and tablecloths.
For more information, visit http://cameocleaners.com.
Cameo Cleaners
280 Third Ave
New York, NY, 10010, USA
+1 (212) 677-3949