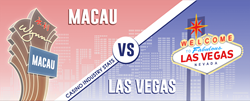 LONDON (PRWEB) February 22, 2018
Casino News Daily has compiled a detailed report on Las Vegas and Macau - their past, present, and immediate future based on revenue statistics, additional data about their casino industries, and information about the economic environment in both cities.
The study is accompanied and visualized by an infographic to extend the shelf life of the topic and to create opportunities for further discussion and comparisons between two of the world's largest land-based casino markets.
When the Great Recession struck in late 2007, it quickly showed Las Vegas that all its leading industries were anything but recession-proof. A crisis of enormous proportions stomped into America's favorite playground to nearly kill the glittery Las Vegas dream. A city (that never sleeps) went from boom to bust almost overnight.
A decade later, Las Vegas is looking to glue together the shattered pieces of its pre-recession peak. The city is once again among America's hottest real estate markets as housing prices have been rising quickly in the past several years. A record number of visitors have been flocking to Las Vegas and its multi-use integrated resorts and convention facilities. Construction activity both on and off the Strip has been rekindled, bringing back thousands of jobs.
Some of the city's iconic properties are currently undergoing multi-million renovation, dormant construction projects are set to be renewed, and new hotel, casino, and convention facilities are set to spring up in some of the hottest portions of Las Vegas by the end of the decade and in the early 2020s. In other words, a fresh wave of confidence in the city's potential has swept over investors and tourists.
A few years ago, Macau's casino industry experienced its most significant downturn since established in the early 2000s, as it was dragged into the core of an intense anti-corruption campaign launched by Chinese President Xi Jinping.
The tiny Chinese enclave has long been referred to as an easy target for money laundering and other illicit activities as well as a place where corrupt Chinese politicians could gamble away the proceeds of their shady activities.
At the time, Macau's casino industry was heavily reliant on its VIP segment. President Xi's crackdown on corruption in Mainland China drove high roller players away from the casino city. As a result, Macau's gross gaming revenue plummeted almost by half within the course of two years.
Following pressure from the city's government, local casino operators changed the focus of their operations to non-gambling visitors and mass-market players. However, revenue figures for 2017 showed that the VIP segment was the main driver of growth last year and that non-gambling revenue accounted for a very small portion of what the city's integrated resorts generated.
Will Las Vegas be able to reach and surpass its pre-recession revenue levels? How can Macau reduce its reliance on wealthy high rollers without hurting its casino industry? What will the two cities have to do to convince investors that they have learned the lessons of their previous shortcomings?
About Casino News Daily:
Casino News Daily is a media outlet dedicated to providing its readers with the latest news from the global gambling industry. Its expanding base of unique content includes daily news articles and detailed reports and analyses of important developments in all sectors of an industry that is expected to reach close to $500 billion by 2019.
Phone number: +4420 3745 5197