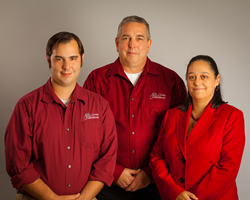 This award is a reflection of the quality and commitment of our team members. They truly believe in helping others and understand that trust is the number one value that we bring to our clients. - Scott Bleichwehl
SAN ANTONIO (PRWEB) February 22, 2018
Caring Transitions, America's largest resource for managing senior relocations as well as downsizing and estate liquidations, is pleased to announce that Caring Transitions of San Antonio has been awarded one of the company's national Top 10 Awards. The franchise is locally owned and operated by Scott, Ben and Leilani Bleichwehl and the award was presented at the company's national conference on February 9, 2018.
Caring Transitions Chief Operating Officer Al Scobell said the Bleichwehls are known in their community – and throughout the Caring Transitions franchise system – for their service and smooth operations.
"The Bleichwehls are truly committed to the Caring Transitions system and serving their community. Our Top 10 Award highlights the Bleichwehls' operational capabilities and service standards and we were pleased to recognize them this year. Earning a spot in the Top 10 two years in a row after fewer than three years in operation is awesome and I am excited to see what new achievements they come up with this year," Scobell said.
Caring Transitions is a national franchise in more than 200 markets. Caring Transitions of San Antonio's specially-trained team can handle organizing, packing, de-cluttering, moving, resettling, in-person and online estate sales, liquidations and preparing homes for market. Caring Transitions specializes in managing senior relocations, but the services are also perfect for busy families and individuals in need of assistance. Caring Transitions of San Antonio is based on the north side of town, but the company serves the entire San Antonio metro area.
"Our growth in 2017 can be contributed to the increase in awareness of our business and the quality service that we provide. This award is a reflection of the quality and commitment of our team members. They truly believe in helping others and understand that trust is the number one value that we bring to our clients," Scott said. "In 2018 we are going to begin to offer the CT Bids Online Auction service, which will allow us to better serve our clients and reach more auction buyers."
Caring Transitions' services are perfect for seniors moving in with family or into a safer living situation as well as busy families and people clearing out the home of a loved one who has passed. All of Caring Transitions' services are customizable, so clients only pay for the services they need – whether that means managing the entire move and estate-clearing or just getting someone resettled into their new place.
"We do what we say we're going to do with no hidden costs. We are problem solvers who also offer packing and moving services thereby eliminating the need to find separate companies to accomplish your goals. For us, building Caring Transitions is about building trust in our community and helping people," Scott said.
Caring Transitions of San Antonio is bonded and insured and all W2 employees have been background-checked. For additional information about Caring Transitions of San Antonio, call (210)714-0855, email SBleichwehl(at)CaringTransitions.net or visit http://www.CaringTransitionsSAN.com.