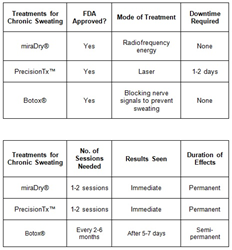 PHILADELPHIA (PRWEB) February 22, 2018
Hyperhidrosis or excessive sweating is an embarrassing condition. If untreated, it can lead to serious social and psychological repercussions. Over the years, the Ringpfeil team has successfully treated numerous patients with chronic sweating through their customized treatment protocols that are catered to patients' individual needs.
miraDry®, PrecisionTx™ and Botox® are all FDA approved, safe treatments used to improve the quality of life for patients with hyperhidrosis. Each patient is seen by a Board-Certified Dermatologist and given expert advice on which treatment would best fit their needs.
Ringpfeil Advanced Dermatology was the first cosmetic center to offer miraDry® in the state of Pennsylvania. It is a non-invasive procedure that uses advanced electromagnetic technology to destroy sweat glands in select areas. Local anesthesia is used to ensure comfort during the procedure that lasts for 90 to 120 minutes. No downtime is required – patients can go back to their way of life right after the session. miraDry®'s breakthrough technology gives patients results that lasts a lifetime.
PrecisionTx™ is an FDA approved, thermal energy laser system that eliminates over active sweat glands. Done under local anesthesia, trained Ringpfeil personnel will make a small incision in the area to allow a small laser fiber called SideLight™ underneath the skin to directly target sweat glands. Each session lasts for 60 minutes and gives lifetime results. Patients can return to their normal activities after 1-2 days.
Botox® is synonymous to aesthetics. Aside from its ability to eliminate wrinkles, Botox® can also be used to block nerve signals to sweat glands to stop them from producing sweat. Unlike the first two permanent treatments, patients who go for Botox® can be sweat free for 6 months. The procedure involves the use of local anesthesia and lasts about 60 minutes. Small, painless injections will be made to deliver Botox® underneath the skin. No downtime is required after a session, but patients have to wait for 5-7 days to experience the full effect.
The Ringpfeil Advanced Dermatology team will help you decide which Hyperhidrosis treatment is best for you. Clinical excellence, patient satisfaction and integrity are important values imbued by the clinic's founder, Dr. Franziska Ringpfeil. Dr. Ringpfeil is a board-certified dermatologist who has extensive experience in her field and has published numerous peer reviewed articles on topics that are at the forefront of cosmetic dermatology.
Ringpfeil Advanced Dermatology is committed to bring life changing, clinically proven & safe technologies such as miraDry®, PrecisionTx™ and Botox® to as many patients in Haverford, Philadelphia and surrounding communities. Ringpfeil offers competitive pricing and works out a manageable, no interest payment plan with each patient. Book an appointment with us today!