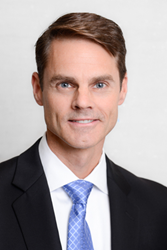 "Loyale Inside™ will enable our business partners to address their clients' needs of increasing patient-pay collections, reducing costs, and improving the overall patient experience. I'm honored to have the opportunity to play a prominent role fulfilling Loyale's commitment to this important market
LAFAYETTE, Calif. (PRWEB) February 22, 2018
Loyale Healthcare today announced that it had promoted Grattan Smith to the role of Executive Vice President, Channel Strategies to lead in the execution of Loyale's expanded partner initiative. Mr. Smith, a 25-year industry veteran with credentials that include leadership roles at Physician Computer Network (PCN); Siemens/Shared Medical Systems; and McKesson-RelayHealth, has led the successful execution of similar indirect business strategies.
Loyale's partnership initiative was developed jointly by Mr. Smith and Loyale's leadership team to respond to the rapid growth in demand for more comprehensive patient financial engagement solutions. Serving a variety of healthcare industry providers in patient finance and revenue cycle services and solutions, Loyale has developed Loyale Inside™ a customizable version of Loyale's Patient Financial Manager™ (PFM) designed to expand and improve partner financial performance and market competitiveness.
"When Loyale launched PFM, we knew there would be channel partner opportunities, but the interest has been explosive," stated Loyale CEO Kevin Fleming. "Partly due to the industry's growing awareness of the importance of patient financial engagement and partly to Grattan's consultative expertise, it's become clear that we and our partners have a lot to gain. We're excited about what we'll be able to accomplish together and fortunate to have a professional like Grattan to lead the effort."
"I look forward to continuing my interactions with business partners, assessing their needs, and helping them enhance their overall offerings," added Mr. Smith. "Loyale Inside™ will enable our business partners to address their clients' needs of increasing patient-pay collections, reducing costs, and improving the overall patient experience. I'm honored to have the opportunity to play a prominent role in fulfilling Loyale's commitment to this important market."
About Loyale
Loyale Healthcare is reinventing the way healthcare providers engage financially with their patients. Since 1990, Loyale companies have helped providers in the healthcare and higher education industries connect with their customers more meaningfully and more successfully. By empowering healthcare providers to treat a patient's experience with the same level of care devoted to the patient's clinical experience, Loyale Healthcare Turns Patient Responsibility into Lasting Loyalty. Based in Lafayette, California, Loyale serves healthcare providers across the U.S.