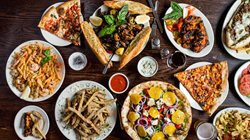 The delicious food, generous portions and great service will all remain the same.
FARMINGTON, Conn. (PRWEB) February 26, 2018
Nick Romano and Marty Fox of NGR Restaurant LLC are pleased to announce the rebranding of their Joey Garlic's Farmington, CT restaurant to its new name - Mama Luke's. The restaurant, located at 372 Scott Swamp Road in Farmington, CT, will continue to offer the same great food and service that its long term patrons have become accustomed to, but will have a new name. The restaurant will continue to offer lunch and dinner daily, keeping the menu the same except for some great new additions.
Mama Luke's is a scratch kitchen that specializes in New Haven-style brick oven pizza, which has a crust similar to rustic peasant bread in texture and is cooked to a darker color which allows the toppings to blend together. The longer cooking time also allows the different ingredients to caramelize, bringing out their natural bold, sweet or savory flavors. Other menu items include overstuffed calzones, salads, enormous grinders, burgers, pasta and delicious Italian dinners. The restaurant offers a full bar and has a private room available for parties.