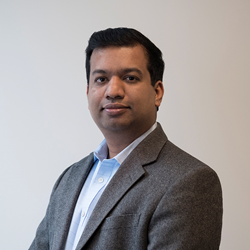 "Pefin is a solution that is comprehensive, personalized, and affordable. For a single financial plan, Pefin evaluates 2-5mm data points in real-time. Pefin's neural network automatically updates financial plans as changes occur for 1/20th the cost of a human advisor."
New York, New York (PRWEB) February 22, 2018
Pefin, the world's first artificial intelligence (AI) financial advisor, welcomed Viju Joseph as President and Chief Investment Officer to their management team in January 2018.
Joseph's distinguished career in finance spans two decades which included Chief Risk Officer at Weiss Multi-Strategy Advisors, where he was responsible for risk, portfolio construction, and asset allocation for a $1.5B portfolio. Viju is also on the Board of Trustees and Investment Committee of the University System of Maryland Foundation, assisting in managing its $1B endowment. Prior to Weiss, Viju was Chief Risk Officer at Eton Park Capital Management, a $14B Hedge Fund during his tenure. Before that, Viju was an Executive Director and Co-Head of Global Market Risk in the Institutional Equity Division of Morgan Stanley where he was responsible for risk, treasury and capital management for the firm's $500B balance sheet. Viju has an MBA from the University of Maryland and a bachelor's degree from IIT Bombay.
Joseph's role in the company will encompass leading business strategy, and scaling and expanding Pefin's product offering. "As we enter the growth phase, it is critical that we maintain the nimbleness of a small organization, while building strong processes and infrastructure in a highly regulated industry."
Joseph, who was an initial investor and advisor to Pefin, explains, "Financial planning and advice today is either personalized and expensive, or "robo" - simplistic, incomplete, but affordable. Pefin is the best of both - a solution that is comprehensive, personalized, and affordable. For a single financial plan, Pefin evaluates 2-5mm data points in real-time. Pefin's neural network automatically updates financial plans as changes occur for 1/20th the cost of a human advisor."
The CEO of Pefin, Catherine Flax, is very pleased to have Joseph on board. "Having Viju join the leadership of the Pefin business is a huge milestone for the company. With his decades of experience in investments and financial services, his contribution will catapult Pefin's product offering and strategic positioning in the market to a new level."
Joseph also shares that up until this point, Pefin has been privately funded. The Pefin team is now presenting accredited investors the opportunity to participate in a capital raise targeted at a minimum of $15 mm. This will be focused on strategic investors including financial services firms, asset managers and insurance companies. This opportunity is expected to close in Q1 2018.
About Pefin
Pefin's proprietary, AI technology analyzes all of the data that describes an individual's financial life, and incorporates markets, tax and regulatory details, to craft personalized and affordable financial advice, available 24/7.
Established in 2011, Pefin, is a financial technology company based in New York City. Pefin, which stands for PErsonal Financial INtelligence, uses Artificial Intelligence (AI) to provide fiduciary financial advice at the fraction of a cost of a traditional financial advisor. Pefin's proprietary, patent-pending AI technology factors individual financial situations and personal financial priorities in addition to markets and regulations to craft highly tailored financial advice, available 24/7. Pefin Advisors, LLC is an SEC Registered Investment Advisor, under Section 203(c) of the Investment Adviser Act of 1940.
Request free press access to Pefin: https://www.pefin.com/press