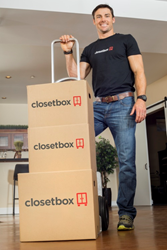 As the largest, full-service storage company in the world we know how important amenities, access to work and a livable income are to singles looking for an apartment
DENVER (PRWEB) February 21, 2018
While some people dream of buying a home and settling down in the suburbs, that lifestyle is not for everyone.
Single young professionals are flocking to major American cities in droves, searching for high-paying jobs, good nightlife and apartments that are within walking distance of shops and restaurants.
The team at Closetbox, a growing, full-service storage company, wanted to find out exactly which U.S. cities are best for singles renting an apartment.
"As the largest, full-service storage company in the world we know how important amenities, access to work and a livable income are to singles looking for an apartment," said Closetbox Data Scientist Nick Newby.
To determine which cities are best for singles who are renting, Closetbox analyzed a handful of factors for more 75 cities across the country.
The study factored in average income, the percentage of the city's population that is single, the vacancy rate, the cost of storage and the percentage of people who walk to work. Closetbox used real-time storage rate data and Experian demographic information broken down by zip-code.
The results were surprising to Newby, who pointed out that there are several cities where renters can earn a high wage and find an affordable apartment to rent.
"If you are interested in moving to a city center to take advantage of the lifestyle, you can find good value in cities outside of the ones that normally come to mind — San Francisco, Boston, New York City and Los Angeles," he said.
Interested in moving to a new city? Consider these top 10 cities for singles to rent an apartment.
1. Baltimore
2. Providence
3. Cleveland
4. New Orleans
5. Chicago
6. Philadelphia
7. Las Vegas
8. Washington, D.C.
9. Tucson
10. Columbus
Baltimore rose to the top with a high average income of over $100,000, a high percentage of singles and plenty of available affordable apartments.
New Orleans ranked first among all cities for the amount of singles, with 62 percent of the population not married.
Among the Top 10, D.C. residents made the most money, with an average income over $123,000. Philadelphia ranked highest among the top 10 in walking score. Tuscon had the most affordable storage rates.
Ohio was the only state with two cities, Cleveland and Columbis, in the top ten.
For more information or to see the full list of cities analyzed for the study visit http://www.closetbox.com.
About Closetbox
Closetbox is a full-service storage company that offers free pickup and on-demand return delivery of customers' items with secure storage in a local warehouse. Founded in 2014 by Marcus Mollmann and headquartered in Denver, CO, the company is backed by venture capital and offers an efficient and cost-effective solution to storage. Each customer has access to a personalized, online dashboard that includes an inventory of their belongings—allowing customers to request any or all items to be returned within a few days. Closetbox serves 88 markets across 38 states and Washington D.C. and will continue its market expansion through 2018. To learn more, visit http://www.closetbox.com.