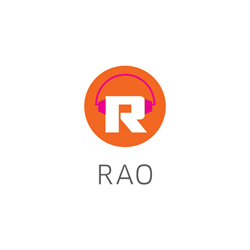 Building a blockchain based broadcasting platform
WILMINGTON, Del. (PRWEB) February 22, 2018
RadioYo, a platform for people to livestream free online radio shows and broadcast prerecorded podcast episodes, announced today the company's crowdsale opens on March 1st at 6:00 am EST (11:00 AM UTC).
RadioYo's goal is $10,000,000. Once the $10,000,000 is reached the crowdsale ends.
Participants must complete the registration process prior to the crowdsale by visiting https://rao.radioyo.fm and clicking on the "Register Now" button. An Ethereum wallet that supports the ERC-20 token standard is also a requirement.
During the crowdsale tokens are available in 34 specified tiers. The minimum amount of RAO available is 500 and the maximum is 250,000. There are only 33 million RAO available during the crowdsale.
ETH and BTC are accepted during the crowdsale. As a result, participants will need to provide their Ether wallet address during the registration process if they are participating with ETH. Any attempts to send ETH from a different address or directly from an exchange such as Coinbase, Kraken, Poloniex, etc. during the crowdsale will result in an inability to purchase RAO and a participants ETH or BTC may be permanently lost.
If a participant does not have an Ether wallet, they can generate one using MyEtherWallet, Mist or Jaxx but their ETH address must already be in or imported into Metamask prior to the ICO. Metamask is required as part of the crowdsale.
"We are excited to bring our token the RAO to life, said Steven Blinn, RadioYo's founder. "Our team has worked really hard and taken concrete steps to make our crowdsale all inclusive and accessible to everyone."
"For example, we've created 34 different tiers for people, made sure that no one person can hold more than 1 percent of RAO, turned away early investors wanting a lion's share of RAO and decided against holding a pre-sale," noted Blinn. "We took an approach that emphasizes the importance of organic growth and building and nurturing a strong community of RAO contributors."
To live stream your own radio show or broadcast prerecorded podcast episodes using RadioYo's platform, visit https://radioyo.fm
To follow RadioYo's crowdsale, use the following links:
Reddit: https://www.reddit.com/r/RadioYo/
Twitter: https://twitter.com/radioyofm
Medium: https://medium.com/@RadioYoFM
Slack: https://radioyo.slack.com
Telegram: https://t.me/joinchat/AAAAAEMBG4bGWaQGuDkstg
YouTube Explainer Video: youtu.be/vuXosDXG7II
About RadioYo
RadioYo is a platform for a new kind of conversation. Live streaming a show or podcast is easy. Making it a success is hard, and earning income is hard, really hard. RadioYo helps people create and grow their show, their way. RadioYo gets people on the air, helps them deliver their message, and is there for them every step of the way as they grow. Their success is our success.
Disclaimer
Citizens and residents of the United States are prohibited from participating. The Crowdsale of the RAO token is not the sale of a security. RadioYo will use the proceeds of the Crowdsale to advance the purposes outlined in its white paper. Virtual currency is not legal tender, is not backed by the government, and accounts and value balances are not subject to consumer protections. The information in this release does not constitute investment advice or an offer to sell or invest in securities. People who participate in RadioYo's ICO should not have a reasonable expectation of any future profits or the RAO increasing in value based on RadioYo, Inc. creating an ecosystem and building out the company's platform.