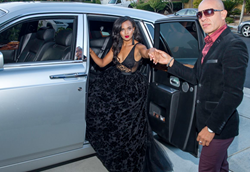 I feel so much gratitude for the friendships and connections made through the organization Kiss the Monkeys created by RaQuel and Al...Their events may last just an evening, but they create friendships, partnerships, and memories that will last a lifetime.
LOS ANGELES (PRWEB) February 22, 2018
Along with the performance of Earth Wind & Fire star, Sheldon Reynolds, other celebrities on the guest list of Kiss The Monkeys - "LET THEM EAT CAKE" soirée that have already been announced are, Walter O'Brien billionaire hacker of top TV show "Scorpion", Bobbie Chance, acting coach to the stars, and actress Jennifer Murphy. The event will be a charity fundraiser for Non-Profit, Sweet Progress. The event celebrates kTm founder Alex Harris' birthday with fashion shows, music performances, food, drinks, and more. It will be a paparazzi extravaganza with a roomful spraying of celebrities, influencers, entrepreneurs, entertainers and professionals from many cities.
El Camp in El Segundo will be transformed from a unique co-work space to an adult playground. Susan Franceschini, executive director of ThinkLA said it best when she described kTm events to be filled with "Fashion, Fun, Philanthropy and Fabulosity".
The evening will begin with a red carpet reception and VIP meet-and-greet. Food provided by Chef Mario Medina of Universal Caterers and libations sponsored by SG Promotions. Other musical performances include the cast of "New York in Chains" (written by Don Lewis)- Louisa Erlich, Abel Garcia, Rane Rose. There will also be an exclusive previewing of "The Dirt Merchants "Romancery", and a meet-and-greet with the stars of the movie. Kiss The Monkeys signature "fashion factor" is served up by designers, Hannah Anhari, and celebrity designer, Antonella Commatteo, launching a new spring line.
Other event highlights include an art exhibit by Eddy Bogaert and Ben Moon (donating partial proceeds of art sales), meet-and-greet Miss Asia USA - The Pageant and Miss Latina Global and Miss Teen Latina Global by Virgelia Productions. The master of ceremonies for the evening will be Davi Davenport and live music throughout the evening by DJ Aljess. Attendees will also enjoy a Selfie Photo Booth from Nave Photography. And the icing on the cake...is THE CAKE! A jaw-dropping artistic creation by Mary's Cake Design, fit for royalty.
Kiss The Monkeys / Kiss The Mermaids is an events company and network of entrepreneurs, entertainers, fashion enthusiasts, professionals and philanthropists, inspiring social changes through the powerful impact of modern connectivity/social media and special events. From LIKES to LIASONS and from FOLLOWERS to FRIENDSHIPS, kTm has created a new and exciting evolution. Learn more about kTm Events to #jointheevolution.
The event company has a robust Facebook community so kTm Events never has a shortage of media photogs. kTm event-goers always make a fashion statement. Ticket link for "Let Them Eat Cake" VIP tickets $129 - General admission $79. BUY YOUR TICKETS! Write to kTm@kissthemonkeys.com to inquire about active discount codes.
Check out Video of Alex's Birthday Celebration in Malibu Hills from last year.
If you would like more information about kTm memberships or sponsorship opportunities or would like to register to model, or a fashion designer that would like to present, please review ABOUT KTM or call RaQuel at 312.446.6610, or email us at ktm(at)kissthemonkeys.com for our sponsorship decks.