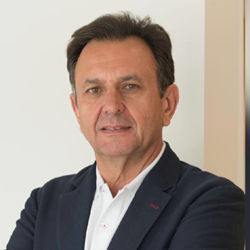 Sardinero's vast experience in the industry and access to senior executives is invaluable.
JERSEY CITY, N.J. (PRWEB) February 22, 2018
UpChannel today announced that Jesus Sardinero has joined its team as President of Mobile Business. Sardinero is a well-known and highly connected member of the telecommunications industry with more than thirty years of experience in significant roles at major brands like Telefonica, Motorola, Siemens and PCS Wireless.
Sardinero has been responsible for commercial operations in the Americas, Asia and Europe. As a result, he has direct experience with the sales, marketing, product development, distribution and service related challenges faced by telecoms.
"We couldn't be more excited about having Jesus join us. His vast experience in the industry and access to senior executives is invaluable," stated Ron WIlliams, CEO of UpChannel. "Jesus has an expansive network, and has already lined up 90 days of meetings across the major players in the industry."
UpChannel connects carriers and smartphone manufacturers with their customers, enabling recurring relationships and data-driven insight through a native mobile app called UpChannel Connect. OEMS and Carriers using the UpChannel Connect platform typically save 35% in support costs and reduce RMAs by 50%.
There are several opportunities for OEMs and Carriers to leverage the UpChannel Connect platform, says Jesus. "It is very obvious to me that the UpChannel Connect platform offers exciting new opportunities for affordable and effective communication with smartphone users," states Jesus, "The UpChannel Connect platform has the ability to reduce the cost of support, streamline communication, encourage upgrades, and provide better intelligence back to the OEM and the Carrier."
Jesus is meeting with his many colleagues and contacts across the industry to discuss how UpChannel Connect can add value to current business models and streamline customer support, sales, marketing and more. He will attend Mobile World Congress in Barcelona and conduct outreach and interviews while he's there.
If you'd like to meet with Jesus to learn more about the platform please contact him at jesus(at)upchannel(dot)com. The UpChannel Connect platform is currently available to OEMs and Carriers at no cost.
About UpChannel:
UpChannel is a B2B SaaS (software-as-a-service) business that allows smartphone manufacturers and carriers in emerging markets to manage their relationship with smartphone owners. The UpChannel platform is currently deployed on more than 1 million devices in 105 countries. Learn more at http://upchannel.com.