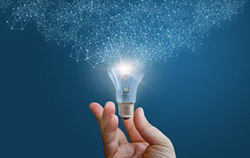 BOULDER, Colo. (PRWEB) February 22, 2018
Enterprise Management Associates (EMA), a leading IT and data management research and consulting firm, today announced it will host a webinar titled "Enabling 360-degree Business Insights with SAP Data," featuring John L Myers, managing research director of business intelligence and data warehousing at EMA, and Kevin Petrie, senior director of product marketing at Attunity.
Data-driven companies are pushing the envelope, looking for easier and quicker ways to unlock some of their most important data to improve business analytics. One of the key sources of this information is existing enterprise applications for resource (ERP) and material planning (MRP), and supply chain orchestration (SCM). This means integrating key information from applications such as SAP into streaming, data lake and cloud analytics platforms. While these initiatives require more strategic approaches than previous eras, they enable new ways for firms to differentiate their offerings for increased revenues, target their consumers to improve customer experience, and lower their operational costs to improve margins.
During this webinar, Myers and Petrie will discuss:

How data-driven organizations are changing the use of data and information for business exploration and improved analytics
How to integrate enterprise application data such as SAP and other disparate data sources across the IT landscape
The role of strategic data integration and management in accelerating data-driven initiatives with ERP, MRP, and SCM platforms and preparing organizations for regulatory and corporate compliance
Modern data integration and ingestion approaches that enable improved analytics and faster ROI through automation
Examples of real world customer implementations of analytics using information from SAP applications
The webinar is Thursday, March 8 at 1:00 p.m. Eastern. Those who wish to attend can register at: http://info.enterprisemanagement.com/enabling-360-degree-business-insights-with-sap-data-pr
About EMA:
Founded in 1996, EMA is a leading industry analyst firm that specializes in providing deep insight across the full spectrum of IT and data management technologies. EMA analysts leverage a unique combination of practical experience, insight into industry best practices, and in-depth knowledge of current and planned vendor solutions to help clients achieve their goals. Learn more about EMA research, analysis, and consulting services for enterprise line of business users, IT professionals and IT vendors at http://www.enterprisemanagement.com.