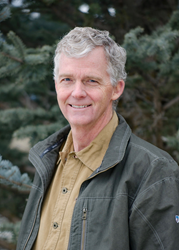 "Given the potential of our state, we need to start putting Wyoming first. Wyoming ahead of donors, ahead of party, ahead of personal political careers." - David Dodson, independent candidate for U.S. Senate
CHEYENNE, Wyo. (PRWEB) February 22, 2018
David Dodson, a successful entrepreneur, investor, and educator, announced today that he is running for the U.S. Senate seat currently held by GOP Senator John Barrasso.
Dodson said he's running on the strength of his 30-year track record as a company builder and job creator.
"Economically, we're ranked dead last out of all 50 states, and yet we have abundant natural resources, no income tax, low cost of living, and phenomenal outdoor recreation," said Dodson. "Yet when you read John Barrasso's website, he seems to think last place is okay because he writes about how well things are going. That's not just unacceptable, it's crazy."
Dodson cited a recent study, the Bloomberg Economic Evaluation of States, that ranked Wyoming's economy 51st, trailing every other state and the District of Columbia.
"Given the potential of our state, we need to start putting Wyoming first," Dodson continued. "Wyoming ahead of donors, ahead of party, ahead of personal political careers. John Barrasso is more focused on appearing on cable news than he is on growing our state's economy, and we deserve a working senator, not a celebrity senator."
"I'm asking the voters to compare my record of helping to create over 25,000 jobs, against John Barrasso's ten-year record of taking care of his donors and his own career," said Dodson. "I have a vision for a Wyoming where our kids don't have to leave the state to make a decent living—and I'm determined to make that happen."
Dodson described himself as a "Reagan Republican" who has become disgusted with Washington's complete abdication of financial responsibility. He said if he's elected, he'll caucus with the Republicans, but he'll remain Wyoming first.
"Wyoming first. Not Mitch McConnell first," he said. "I won't go there to be liked. I'll go there to get things done for Wyoming families. Period."
Dodson said he is also running to try to stop the runaway deficits and irresponsible spending that he believes are destroying America's financial strength.
"In December, John Barrasso passed the Teton County Tax Relief Bill, giving guys like me hundreds of thousands of dollars in tax relief, while giving people in the other 22 counties an average of seven hundred bucks – all with no plan whatsoever on how to protect Social Security and Medicare," said Dodson.
Dodson added that he believes the Democrats and Republicans in Washington have both contributed to an unworkable climate of anger that has shut down all possibility of moving the country forward.
"It's not rocket science. Washington is a mess and when I see a mess, the first thing I do is replace the people that created the mess," he said. "How complicated is that?"
Dodson also expressed dismay over the divisions within our country.
"I'm sick and tired of living in a country where career politicians make half of the country hate the other half, just to get re-elected," he said. "This is not the America that put Neil Armstrong on the moon and won two world wars. We as voters need to change that."
A native of rural Larimer County, Colo., Dodson's family has roots in coal mining and agriculture.
"My grandad used to run one of the largest coal mines in the country, so when it comes to coal, its personal," he said.
He is an avid outdoorsman and hunter and says he's dedicated to the preservation of Second Amendment rights.
Dodson graduated from Stanford University in 1983 and launched his business career in the energy industry. He got his MBA from Stanford in 1987 and founded his first company in 1989. He has been founder, CEO, and/or executive chairman of five companies in industries that include home security, specialty trucking, auto parts and telecommunications. He is also a well-known investor and board member for private companies, having helped pioneer the use of "Search Funds" to help young entrepreneurs acquire and build successful companies.
He's owned a home in Wyoming for 26 years and became a full-time Wyomingite in 2011. He travels from his home in Jackson to the Stanford campus during the fall and spring to teach classes in entrepreneurship at his alma mater.
He is married to Wendy Jacobs Dodson. He has three young adult daughters.
Dodson will face incumbent Republican Senator Barrasso in the General Election on Tuesday, Nov. 6, 2018.
For more information, visit http://www.dodsonforsenate.com or email press(at)dodsonforwyoming.com.