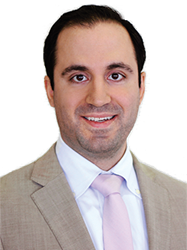 "Though the study admittedly had limitations, the initial results show that this combination surgical procedure can indeed be both safe and effective in correcting eye bulge and lower eyelid droop," said Dr. Taban
BEVERLY HILLS, Calif. (PRWEB) February 22, 2018
Board-certified oculoplastic surgeon Dr. Mehryar "Ray" Taban published a manuscript recently in the Journal of Current Ophthalmology, available on ScienceDirect, where he details the results of his study on combining lower eyelid retraction surgery with orbital decompression. The procedure, a combination of two procedures that are normally conducted in separate stages, is designed to correct both exophthalmos (eye bulge) and lower eyelid retraction (droop), regardless of whether the cause of the conditions is Graves' thyroid disease or genetics. The results of the study show promise for a variety of reasons.
"Quite often, these two procedures are performed separately, the orbital decompression first followed by the lower eyelid retraction, which may not be the best way to address the issues," explains Dr. Taban. "One reason is that the position of the globe can affect the position of the lower eyelid. However, there are other disadvantages that are less medical, which could be the best reason to have conducted this study. "
The disadvantages to which Dr. Taban alludes include the amount of commitment in both time and cost, the heightened patient anxiety, the additional number of incisions, the longer healing time, and more overall patient dissatisfaction. The study was conducted to determine if the above issues could be alleviated while still being safe and effective in addressing the eye and eyelid conditions. Patients who had undergone previous orbital or lower eyelid surgery were excluded, though the study included patients with or without thyroid eye disease.
"At least two other similar studies had been conducted," Dr. Taban says, "but, unlike those, ours didn't restrict the techniques used in the orbital decompression procedure. Furthermore, a spacer graft to help support the eyelid post-surgery was used only when necessary, depending on each patient's individual case. Though the study admittedly had limitations, the initial results show that this combination surgical procedure can indeed be both safe and effective in correcting eye bulge and lower eyelid droop."
In fact, according to the published results of the study, the mean improvement in eyelid height was 2.4 mm (about a tenth of an inch), a noticeable difference when talking about eyelid position. Furthermore, there were no significant complications or side effects. To learn more about this study, as well as how Dr. Taban performs other types of eye and eyelid surgeries, visit http://TabanMD.com/.
"Although orbital decompression surgery alone can sometimes be effective for eyelid retraction, it's not usually enough to correct both eyelid position and eliminate sclera show (showing whites of the eye)," explains Dr. Taban. "This study shows promise for safety and efficacy regardless of the cause of the conditions or the type of techniques used in orbital decompression. It is changing the paradigm by combining orbital decompression and lower eyelid retraction surgery together rather than separate for patients with both bulging eyes and lower eyelid retraction. This can reduce the disadvantages inherent in doing the procedures separately."
Meet Dr. Taban: http://TabanMD.com/About-Oculoplastic-Surgeon/
Mehryar (Ray) Taban, MD, is a Santa Barbara and Beverly Hills, Los Angeles oculoplastic surgeon (cosmetic and reconstructive eyelid plastic surgery) who is committed to his patients' progress and results. He offers an array of reconstructive and cosmetic procedures, with a focus on the face in general and the eyes in particular. He has had extensive training and is triple board-certified by the American Society of Oculofacial Plastic and Reconstructive Surgery (ASOPRS), American Board of Cosmetic Surgery (ABCS) and American Board of Ophthalmology (ABO). Due to Dr. Mehryar (Ray) Taban's expertise in eye plastic surgery, he is often called upon to help other physicians with their complex cases, and frequently publishes articles and lectures to physicians around the country.
For more information on Dr. Taban and his services, please visit http://www.TabanMD.com.
Dr. Mehryar (Ray) Taban, MD
9735 Wilshire Boulevard #319
Beverly Hills, CA 90212
(877) 958-9277
DrTabanInquiry (at) gmail (dot) com