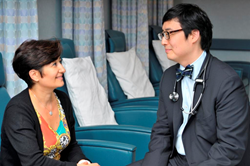 Some of these things may seem like 'no-brainers,' but they're worth regular reinforcing
NEW YORK (PRWEB) February 22, 2018
In recognition of February as National Cancer Awareness Month, Queens Medical Associates, a preeminent cancer care facility specializing in hematology, has provided general tips for individuals to take steps towards a healthier lifestyle and cancer prevention. Providing cancer prevention information is a key component of QMA's integrative approach to care.
What is cancer?
Cancer is not one disease, but many diseases that occur in different areas of the body. Each type of cancer is characterized by the uncontrolled growth of cells. Under normal conditions, cell reproduction is carefully controlled by the body. However, these controls can malfunction, resulting in abnormal cell growth and the development of a lump, mass, or tumor. Some cancers involving the blood and blood-forming organs do not form tumors but circulate through other tissues where they grow.
What is cancer prevention?
Cancer prevention consists of proactive steps taken to decrease one's risk of developing cancer. In 2017, there will be an estimated 1.7 million new cancer diagnoses and 600 hundred thousand cancer deaths in the United States. In addition to the physical problems and emotional distress caused by cancer, the high costs of care are also a burden to patients, their families, and to the public. The goal of preventative measures is to reduce the number of new cancer cases and, in turn, minimize the physical, emotional and financial strains that cancer often causes.
"While much of what we do for our patients is based on treating them after they've received a cancer diagnosis, it's critical to continuously remind them and the general public that there are lifestyle changes that can help prevent cancer," explains Dr. Gabriel H. Jung, M.D., Oncologist/Hematologist. "Some of these things may seem like no-brainers, but they're worth regular reinforcing."
The Tips
Don't use tobacco
Avoiding tobacco — or deciding to stop using it — is one of the most important health decisions an individual can make and a crucial part of cancer prevention.
Eat a healthy diet
Although making healthy selections at the grocery store and at mealtime can't guarantee cancer prevention, it might help reduce the risk. Eat a diet rich in fruits and vegetables, whole grains, legumes and nuts.
Drink alcohol in moderation. The risk of various types of cancer increases with the amount of alcohol one drinks and the length of time one has been drinking regularly.
Limit processed meats. A report from the International Agency for Research on Cancer, the cancer agency of the World Health Organization, concluded that eating large amounts of processed meat can slightly increase the risk of certain types of cancer.
Keep a healthy weight and be physically active
Maintaining a healthy weight might lower the risk of various types of cancer, including cancer of the breast, prostate, lung, colon and kidney. Eat lighter and leaner by choosing fewer high-calorie foods, including refined sugars and fat from animal sources.
Engage in physical activity regularly. In addition to helping control weight, studies show that physical activity might lower the risk of breast cancer and colon cancer.
Use sun protection
Skin cancer is one of the most common kinds of cancer — and one of the most preventable. If possible, avoid the sun between 10 a.m. and 4 p.m., when the sun's rays are strongest. If one has to be outside, stay in the shade or wear protective clothing, sunglasses and a hat.
Use generous amounts of sunscreen and reapply frequently. Avoid tanning beds and sunlamps, which are as damaging as natural sunlight.
Schedule regular medical screenings
Finding precancerous conditions early are extremely important in the prevention process. Precancerous conditions are conditions that may become cancer. Screenings like mammograms, pap smears, prostate exams, endoscopies and colonoscopies should take place on a regular basis.
Get immunized
Cancer prevention includes protection from certain viral infections. Talk to your doctor about immunization against
Hepatitis B, which can increase the risk of developing liver cancer.
Speak with your pediatrician: The (HPV) vaccine is now recommended for girls and boys. It is also available to both men and women age 26 or younger who didn't have the vaccine as adolescents. HPV is a sexually transmitted virus that can lead to cervical and other genital cancers.
Avoid risky behaviors
Certain risky behaviors can lead to infections that potentially increase the risk of cancer. Avoidance of these is a form of prevention. Practice safe sex by limiting the number of sexual partners, and regularly use protection to lower the risk of sexually transmitted infections like HIV or HPV, which can increase the risk of certain cancers.
Don't share needles. Sharing needles with an infected drug user can lead to HIV, as well as hepatitis B and hepatitis C, which can increase the risk of liver cancer.
ABOUT QUEENS MEDICAL ASSOCIATES
Queens Medical Associates (QMA) is a well-established physician practice and infusion center which provides hematology and medical oncology care for patients with cancer and blood disorders. Located in Fresh Meadows, New York, QMA's physicians and clinical staff bring decades of experience providing exceptional care and treatment. Approximately 300 patients are served daily translating into over 200 treatments. QMA's team members communicate in five official languages (English, Spanish, Chinese, Korean, and Russian). The practice also offers infusion therapy for many conditions including Crohn's disease, multiple sclerosis, rheumatoid arthritis, and organ transplants. For more information about Queens Medical Associates, visit http://www.queensmedical.com/.