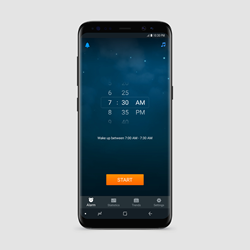 GOTHENBURG, Sweden (PRWEB) February 22, 2018
Android users no longer need to keep their devices in bed with them at night to enjoy the full benefits of the best-selling Sleep Cycle alarm clock application: Sleep Cycle's groundbreaking patented sound analysis technology, tested and perfected by Northcube developers, now eliminates the need for wearable sleep trackers and devices placed in bed.
"We created Sleep Cycle to make mornings better for everyone and have been working diligently to make our app even better for Android users," said Carl Johan Hederoth, CEO of Northcube, the creators of Sleep Cycle. "Today, iOS and Android users alike can benefit from the best sleep tracking available—without having any devices in their bed."
Effective Sleep Tracking, No Wearables Necessary
The Sleep Cycle alarm clock for Android utilizes the phone's microphone and machine learning to identify and track movements in bed and to distinguish different sleep phases. The algorithm listens to sounds of bed sheets moving, with a 30 cm (10 inch) accuracy, while identifying and filtering out all sounds that are not generated from the user's movements in bed. Sleep Cycle analyzes users' sleep, records findings, and then wakes them during their lightest sleep phase using a predefined 30-minute alarm window. The app also generates nightly sleep reports and detailed sleep graphs, tracks long-term sleep trends, logs how daily activities impact sleep quality, and offers suggestions for what users can do to improve their sleep.
Notable features include:

Detailed sleep statistics and sleep graphs for every night
Long-term graphs to track sleep quality over time, so users can see which days of the week they sleep best and much more
Sleep notes to track how events such as drinking coffee, eating too much or having a stressful day affect sleep quality
Customizable wake-up window—from instant to 90 minutes
Customizable snooze settings
15 carefully selected, high-quality alarm melodies or the option to choose music as the wake-up sound
Background mode so users can set a regular alarm while Sleep Cycle sleep analysis continues in the background
Patented Tech for a Good Night's Sleep
At the core of the Sleep Cycle alarm clock app are two different technology patents. The first allows the app to identify the most advantageous moment for a sleeping person to be awakened in a given interval of time, and the second allows the app to track sleep using sound so users don't need their mobile device's accelerometer and don't need to have their device in bed with them.
Sleep Cycle is the only app in both iOS and Google Play to offer these functionalities, the first ever to launch on iOS, and the most popular intelligent alarm clock in the world.
Download Sleep Cycle alarm clock for Android
Visit SleepCycle.com
Download press images
About Northcube
Northcube is a leading Swedish game and health app developer studio, founded in 2008 by industry veterans and headquartered in Gothenburg, Sweden. Engaging some of the most talented programmers in Europe, Northcube promotes a passionate company culture where play and business are equally important.