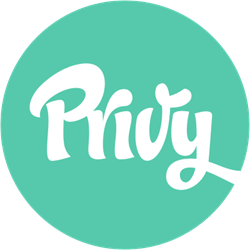 BOSTON (PRWEB) February 22, 2018
New data from Privy, the leading platform for SMB ecommerce merchants to grow and optimize their email lists, increase online sales, and drive business forward, points to the challenges and strategic growth opportunity for small and midsize ecommerce brands in 2018.
Its latest report, the Privy Ecommerce Trends Report, includes responses from over 500 U.S. based small-and-medium sized businesses (SMB) selling on the Shopify or BigCommerce platforms. Overall, participants continue to be challenged in setting and meeting revenue goals. Top growth inhibitors included driving site traffic, attracting new customers, and improving ad performance, pointing to a need for more refined and robust targeting and automation tools.
"Low barriers to entry are giving ecommerce merchants a false sense of what it takes to be successful," said Ben Jabbawy, CEO and founder of Privy. "While technology makes it easy to get started, we see time and time again that it takes planning and perseverance to successfully grow in the early years. Those that are serious about starting and staying in business are not only investing in specific strategies to attract more visitors to their stores and turn them into subscribers and repeat customers, but are seeking support from industry leaders and peers in setting and meeting their business goals."
Directing Traffic & Driving Conversion
Privy's study demonstrates that, although performance did not match expectations in 2017, SMB ecommerce businesses are largely leveraging paid, organic, and onsite marketing strategies to effectively drive traffic and conversion. Specifically, the research shows that channels like Instagram, Facebook, Facebook Ads, and Google Ads are both the most used and seen as the most effective in driving traffic.
When looking at onsite conversion, 96% of respondents are using offers as part of their strategy. Free shipping and percentage off whole order offers are both the most used and reported as most effective. However, businesses aren't using all potential discount tools, despite the perceived effectiveness. Offers like "percentage off of a single product," "dollars off of a whole order," and "dollars off of a single product" are reported as effective, but less than half are actively using them (35%, 26% and 19%, respectively).
Monkey See, Monkey Do
The research also shows that solopreneurs—those operating by themselves—are heavily influenced by the success of others. 60% of solopreneurs reported that they look to top retail and ecommerce brands, like Apple, Nike, Amazon and Old Navy, for inspiration in developing core values, pushing product innovation, and creating meaningful online experiences.
Full Carts Ahead
The study showed that despite challenges, SMB ecommerce businesses are optimistic about the opportunity ahead. Specifically, 53% of new businesses reported they plan to grow by more than 50% in 2018 and 21% plan to at least double revenues in 2018.
To meet these aggressive growth goals, the majority are turning to email list growth. In fact, 70% of respondents said email list growth is critical to success in the year ahead. And, rightly so. In 2017, 88% of businesses with over $100,000 in revenue and 82% of companies with more than five employees used email marketing.
For ecommerce businesses, the competition is fierce and the stakes are high. With limited resources, time, and budget, SMBs and solopreneurs are under immense pressure to attract and convert new and repeat customers. Those who take a "one size fits all approach" to marketing aren't likely to make it. To survive and thrive, SMBs must first set realistic goals and then identify the best-fit toolset to simply and effectively bring shoppers to their site and give each a relevant experience that will turn browsers into buyers.
Download the full 2018 Privy Ecommerce Trends Report here.
About Privy
Privy is the leading provider for small and medium sized ecommerce businesses to grow and optimize their email lists, increase online sales, and drive their business forward. The data-driven platform empowers more than 250,000 online businesses in 180 countries, by enabling marketers and entrepreneurs to design, launch, and measure highly targeted on-site campaigns and emails that reach millions of consumers every month. Seamlessly integrated with ecommerce platforms such as Shopify, Shopify Plus, BigCommerce, Magento, and dozens more, Privy's web-based platform provides businesses with a turn-key marketing tool to engage, capture, and grow online customers.
Privy was launched in 2015, and is based in Boston, Massachusetts. For more information about Privy, visit https://privy.com.