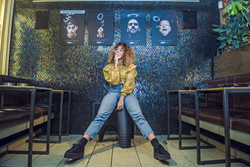 Today, at 4:20 p.m. PST, the world gets its first taste of 420TV, the video-on-demand (VOD) channel dedicated to all things cannabis.
BEVERLY HILLS Calif. (PRWEB) February 22, 2018
WHAT:
Developed by a team of top LA-based executives from the television, music and marijuana industries, 420TV features news, entertainment and lifestyle programming with all original content shot in 4K and totally free to adult consumers. The launch of 420TV reflects a climate of change in our culture, with legalization rapidly expanding in the U.S. (30 states now, including California), Canada and beyond.
Just a handful of 420TV series available at launch include:

In Amsterdam – An insider's view of Amsterdam's exciting cannabis culture as presented by model, VJ host and TV actress Veronica van Hoogdalem.
Trae tha Truth – The hip-hop recording artist's very adult-focused animated comedy series based loosely on his own struggles and crazy adventures.
Medical Marijuana Miracles – A provocative mini-documentary series exploring the real-life stories of people (and even pets) that have benefitted tremendously from the medicinal properties of cannabis.
Super Slackers – An animated comedy from longtime director/animator of "The Simpsons" David Silverman about a group of lazy friends unwittingly thrust into the life of superheroes.
The Gateway - A special collection of ambient video content featuring visually arresting imagery set to beautiful music landscapes.
WHEN:
TODAY, Thursday, February 22, 2018, at 4:20 p.m. PST
WHERE:
https://420tv.com/
To access 420TV, adult consumers can sign up on the official website to watch on tablets and desktops, and download the app for mobile viewing on iOS and Android phones.
For advertising inquiries, contact adsales(at)420TV.com.