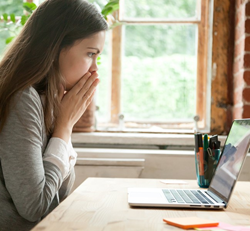 Unfortunately, a recent security breach or loss has a way of motivating CEOs to implement a policy.
HOBOKEN, N.J. (PRWEB) February 22, 2018
A NYC area IT security consultant and MSP discusses the need for cyber-security training for all employees and support for cyber-security policy from CEOs and business owners in a new article on the eMazzanti Technologies website.
In the informative article, the company cites the lack of cyber-security policy awareness among entry-level employees and other attitudes regarding perceived threats as support for more widespread cyber-security training. It then discusses how cyber-security policy and top company leadership drive cyber-security awareness and policy success.
"Commitment at the top is required for effective cyber-security throughout an organization," said Carl Mazzanti, co-founder and Vice President of eMazzanti Technologies. "Unfortunately, a recent security breach or loss has a way of motivating CEOs to implement a policy."
Below are a few excerpts from the article, "Top-to-bottom Cyber-Security Policy Needed."
Entry-level Employees Unaware
"According to the February 15, 2018, article, Employee Awareness of IT Security Threats, appearing on the business review site, clutch.co, just 52% of companies have adopted cyber-security policies. According to the survey, 28% of employees don't even know if their company has a cyber-security policy. That number grows to 46% among entry-level employees."
Tangible Threats More Real
"Since cyber-security threats put data at risk rather than physical property, it's easier for employees to perceive them as impersonal. In addition, if company data is stolen rather than personal information, that perception is even more likely."
The Weakest Link
"No matter how strong a company's cyber-security technology may be, employees still manage to introduce threats into company networks by falling prey to phishing scams, giving away passwords and posting sensitive information on social media."
"To limit potential attacks and mitigate losses, every cyber-security policy should clearly communicate best practices for users. However, policies should be carefully crafted to minimize negative effects on productivity."
Leadership and Training the Key to Effective Cyber-Security Policy
Many employees, especially in entry-level positions, lack awareness of company cyber-security policy and the trend of increasing IT security threats. According to cyber-security experts, a lack of leadership from CEOs and company owners also makes a cyber-security policy unlikely to succeed.
To avoid falling victim to increasing cyber-security attacks, CEOs and business owners must drive cyber-security policies that treat security as important for employees at all levels.
"The Equifax hack shows that cyber-criminals still see huge opportunities to profit from stolen customer data," stated Mazzanti. "Business owners must make customer data security a top priority or suffer similar losses."
eMazzanti Technologies is a leading advocate of a security-first mindset among business leaders and their employees. The company stands ready to provide cyber-security assessments, policy guidance, employee cyber-security training and data security technology and services to assist companies as they pursue the urgent need for an effective cyber defense.
Related resource information:
5 Tips to Secure Your Home Office Network
The Importance of Cybersecurity for Law Firms
About eMazzanti Technologies
eMazzanti's team of trained, certified IT experts rapidly deliver retail and payment technology, digital marketing services, cloud and mobile solutions, multi-site implementations, 24×7 outsourced network management, remote monitoring and support to increase productivity, data security and revenue growth for clients ranging from law firms to high-end global retailers.
eMazzanti has made the Inc. 5000 list eight years running, is a 2015, 2013 and 2012 Microsoft Partner of the Year, 2016 NJ Business of the Year, 5X WatchGuard Partner of the Year and one of the TOP 200 U.S. Microsoft Partners! Contact: 1-866-362-9926, info@emazzanti.net or http://www.emazzanti.net Twitter: @emazzanti Facebook: Facebook.com/emazzantitechnologies.