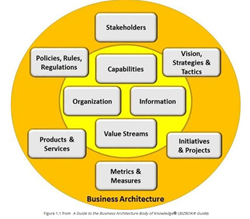 SOQUEL, Calif. (PRWEB) February 23, 2018
Enhanced business architecture reference models for financial services, insurance, manufacturing and healthcare, as well as a common reference model that frames business perspectives shared across most industries. Industry reference models articulate capability, value stream, organization and stakeholder perspectives that serve as a basis for jump starting or maturing in-house business architectures.
Industry practitioners, organized into collaborative teams, continue to mature reference models in both breadth and depth, with downloadable reference model content to be made available in 2018.
Enhanced Business Architecture Maturity Model™ (BAMM®) based on feedback from multiple maturity assessments. BIZBOK® Guide v6.5 contains a summary of the BAMM® as well as usage guidelines. A complete, executable version of the BAMM®, which allows organizations to self-assess the maturity of their business architecture, practices and deployment, is available on the Guild website.
Enhanced stakeholder mapping guidelines and template to help businesses standardize their approach to defining a rationalized view of internal and external stakeholders and maximize the business's ability to realize critical business value propositions.
Enhanced product mapping to enable product management teams and management to leverage business architecture more effectively to conceptualize and deliver a more streamlined, targeted set of products to market.
According to Whynde Kuehn, Guild cofounder and editorial board chair, "BIZBOK® Guide v6.5 makes significant strides in the evolution of the Guild's industry reference models, advancing the practice in key industries. In addition, advancements in BIZBOK® Guide product mapping techniques offer product planning teams new insights into streamlining and improving product management practices using business architecture."
The BIZBOK® Guide is released on average twice annually and continues to evolve based on the evolution of industry best practices and the many contributions of the Guild's member community through its collaborative team structure.
About Business Architecture Guild® The primary purpose of the Business Architecture Guild® (Guild) is "to promote best practices and expand the knowledgebase of the business architecture discipline." The Guild is an international, not-for-profit, member-based organization that provides valuable resources to business architecture practitioners and others interested in the field. The Guild is the source of "A Guide to the Business Architecture Body of Knowledge® (BIZBOK® Guide)", produced by members of the Business Architecture Guild®.
.