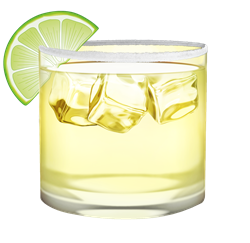 "Through this campaign, we want to help margarita lovers live the marg life by giving them another way to share great moments and experiences with friends. By this time next year, we hope we can collectively raise a margarita, and cheers to the addition of the #MargEmoji!"
LOUISVILLE, Ky. (PRWEB) February 22, 2018
As the margarita celebrates its 80th birthday this year, el Jimador tequila is inviting fans everywhere to help award America's favorite cocktail with its rightful place in pop culture, and a coveted spot on keyboards everywhere. After being snubbed once again in the most recent additions to the popular digital expression announced earlier this month, this National Margarita Day, February 22, el Jimador will launch a nationwide campaign petitioning for the addition of the margarita emoji, dubbed the "MargEmoji," to the 2019 emoji roster.
According to margarita legend, the cocktail is said to have been created in 1938 by Carlos "Danny" Herrera at his Tijuana restaurant. It is believed he created it for a former Ziegfield dancer who could only drink tequila due to allergies to other spirits. Since then, the margarita's popularity has flourished, currently reigning supreme as the #1 bar call in the U.S.
"There's no denying that the margarita has played a large role in elevating tequila to America's most beloved spirit. The cocktail has become part of a lifestyle that embodies a fun, friendly, even fashionable way to interact with the world," said Ed Carias, Senior Brand Manager for el Jimador tequila at Brown-Forman. "Through this campaign, we want to help margarita lovers live the marg life by giving them another way to share great moments and experiences with friends. By this time next year, we hope we can collectively raise a margarita, and cheers to the addition of the #MargEmoji!"
In addition to the digital petition via Change.org, el Jimador has invested in out-of-home media buys that will come to life via a series of posters raising awareness for the #MargEmoji campaign. These posters will target margarita fans from coast to coast, counterintuitively spreading a wave of analog awareness for the digital initiative.
To support the #MargEmoji movement, sign the petition, or visit http://www.eljimador.com to learn more.
About el Jimador
From Casa Herradura, established in 1870, el Jimador is a premium 100% blue agave tequila. The name el Jimador honors the men who harvest the locally grown agave with great pride and care. To learn more about el Jimador, visit http://www.eljimador.com.
el Jimador is a product of the Brown-Forman Corporation, a premier producer and marketer of fine quality beverage alcohol brands including Jack Daniel's, Finlandia Vodka, Korbel California Champagne, Old Forester, Chambord, Tequila Herradura and Sonoma-Cutrer. For more information about Brown-Forman and our brands, visit our website at http://www.brown-forman.com. Please enjoy our brands responsibly.