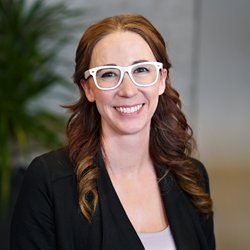 Chris' drive and enthusiasm are tremendous assets for Groove and our clients as we continue to grow
BALTIMORE (PRWEB) February 22, 2018
Groove, a global ecommerce and lead generation agency, added Chris McCready as Director of Business Development to its growing team. McCready will oversee prospective client relationships and new business initiatives.
"We're committed to providing exceptional client service from day one," said Ethan Giffin, CEO at Groove. "Chris' drive and enthusiasm are tremendous assets for Groove and our clients as we continue to grow."
McCready spent the last ten years leading business development efforts in web design, ecommerce and technology in both Silicon Valley and the Bay Area. During her tenure, she found solutions for companies ranging from start-ups to enterprise, including The Men's Wearhouse, Bare Necessities and McAfee.
"I'm excited to be back in Baltimore after being on the West coast for almost 20 years," said McCready. "I love the team and culture at Groove and can't wait to help current, past and future clients grow their businesses."
When she's not meeting prospects, McCready can be found reading comic books, creating portrait pyrography art, waxing her muscle car or hanging out with her husband and children.
About Groove:
Groove is a global ecommerce and lead-generation agency that intersects design, marketing and technology. Founded in 2007 and based in Baltimore, MD, Groove has been recognized by Inc. Magazine, The Agency Post and Business Insider for its growth and corporate culture. Since then, the agency has helped clients increase revenue through strategic marketing and development. Groove has forged premier partnerships with the world's leading ecommerce and marketing technologies, including HubSpot and BigCommerce. To learn more about Groove, please visit https://www.gotgroove.com.