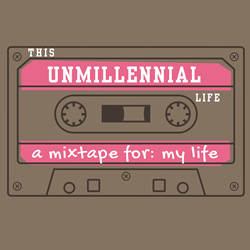 I was tired of seeing cliched portrayals of women I couldn't relate to. I started This Unmillennial Life to give voice to the topics you'd chat about with your girlfriend over a glass of wine.
(PRWEB) February 23, 2018
Too old for Snapchat and too young for AARP, an increasing number of women find themselves frustratingly stuck in a generational gap. Answering the need to discuss more than simply the millennial point of view, a new podcast aimed at these "unmillennials" has quickly become the go-to voice for this new counter culture. This Unmillennial Life taps into this often overlooked audience who is technologically savvy, but not digital natives. The weekly podcast covers everything from taking you inside an unmillennial's first Airbnb rental to addressing how to care for your aging parents.
Within the first two weeks of the podcast launch, TUML was featured by iTunes as a "New & Noteworthy" podcast and has already received nearly 75,000 downloads. It is currently featured on both the NPR One and Spotify apps. The show's host, Regan Jones, who describes herself as "just barely GenX," has developed a highly engaged and active Facebook community for the show, where fans and listeners extend conversations from each episode and share their personal stories, which range from funny to poignant to provocative.
Listeners say This Unmillennial Life resonates with them in a way that other shows and brands don't.
"Loving these topics – Very relatable for those of us in our 40s who are so busy and don't have time to reserach the things that affect us most at this age. Looking forward to future topics!!"
"Love the topics and how real the Host is on the show. She tackles everyday issues that both GenX and older Millennial women encounter. It's nice to know that others are dealing with the same stuff and see how they handle it."
"Thank you, Regan! Your podcast and topics are an absolute untapped market in need."
"Love the podcast! Keep doing what you're doing."
And Jones says this is just the start.
"I was tired of seeing cliched portrayals of women I couldn't relate to — either based on age or simply their station in life. I started This Unmillennial Life to give voice to the topics you'd chat about with your girlfriend over a glass of wine. It's like the world forgot that not every woman is either a young millennial living a glam urban life OR her mother. The rest of us are out here in this generational gap and it's time we talk about what's of interest to us."
In 2018, This Unmillennial Life plans on tackling issues ranging from freezer meals to financial goals, protein powders to Peloton.
Sponsor and partnership opportunities are available for This Unmillennial Life.
CONTACT INFO:
Regan Jones, regan(at)thisunmillenniallife(dot)com
ABOUT THIS UNMILLENNIAL LIFE:
This Unmillenial Life aims to inspire, educate and entertain with stories and topics of interest to women who are entering the best season of their lives.
The podcast addresses wide-ranging topics such as skincare after forty, how to care for both young kids and aging parents and why lifting weights at this time of your life is more important now than ever.
This Unmillennial Life is available on iTunes, Stitcher, Google Music NPR One, Spotify and online at thisunmillenniallife.com.
ABOUT THE SHOW HOST:
Regan Jones, RD is a nationally-known, award-winning registered dietitian and the owner of the world's largest and most successful collection of dietitian-owned websites, including Healthy Aperture, The Recipe ReDux, Blog Brûlée & This Unmillennial Life. Jones, who credits much of her entrepreneurial spirit and success to her "latch-key life" as a kid growing up in the 80's, has established a social footprint totaling more than 110,000 followers and has organized a network of more than 5,000 health influencers and RD bloggers who reach an audience of millions.