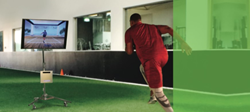 INDIANAPOLIS (PRWEB) February 22, 2018
TRAZER joins the 7th Annual National Scouting Combine in Indianapolis Monday, Feb. 26th through Wednesday, Feb. 28th. The National Scouting Combine is an exclusive invite only event that bridges the gap between football players and coaches.
TRAZER is the world-wide leader in the use of computer simulation for the assessment and enhancement of health and physical / cognitive performance. "TRAZER assesses movement," says Barry French, CEO, "whether it's healthy or injured. Its ability to measure how well the brain and body work together make it ideal for concussion management, for performance training, for tracking performance to detect overtraining syndrome, for physical therapy and for balance training and testing."
With the use of simulation and high-powered optics, TRAZER's patented technology uniquely replicates field/life conditions, while objectively quantifying whole-body, dynamic Reaction Times. TRAZER overloads the brain with multiple demands, while simultaneously challenging the cardio respiratory and orthopedic systems - to both test and train the athlete's Acceleration (ability to start), Deceleration (ability to stop), Gait Speed, Vertical Leap, Heart Rate, and more. According to Jeff Allen, Associate Athletics Director, Sports Medicine, University of Alabama, "TRAZER is the athlete's scoreboard for progress & improvement."
Barry Sanders, NFL Hall of Famer, has said, "I have seen the future of athlete development, and it is called TRAZER." TRAZER is Changing the Game by providing objective data and analytics that allow an athletic trainer to more accurately assess and train the athlete.
About Trazer:
Our TRAZER technology employs computer-based simulation to create an accurate analog of the functional challenges of sports, work, leisure and daily living activities. This allows quantification of core physical and physiologic performance measures such as; reaction time, acceleration, speed, power, endurance, optimum movement posture, jump height, cardiovascular efficiency, caloric expenditure, and distance traveled. TRAZER is available in three different applications: concussion management, orthopaedics, and senior health and fall prevention.