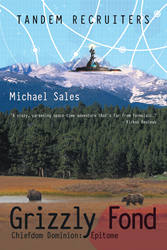 TWISP, Wash. (PRWEB) February 26, 2018
Join author Michael Sales on an adventure of global proportions in "Grizzly Fond," the second book in the Tandem Recruiters series.
It is 2250 and one month since the welcoming banquet for Agent Jetmond Thadius Sky, the first publicized Mooredian alien to visit Earth. Jet is a "quad core mutant" descended from Atlanteans, with titanium-reinforced bones, a turtlelike droid companion on his back, and the equivalent of nuclear fusion reactors in his body. Agent Sky is traveling through time and space to prod humanity into transforming into creating a passive civilization.
Jet leads a ferocious battle for the future, and seeks to unite several races. As he contemplates the validity of his mission and grasps he could inadvertently draw the United States and Earth into an intergalactic war, he realizes his adventure is far from over and, that in the end, he will either be a hero or a failure.
In this continuing science fiction tale, a quad core mutant with super powers embarks on a dangerous journey to stop an extraterrestrial race from controlling humanity's destiny forever.
"Grizzly Fond"
By Michael Sales
ISBN: 9781532016639 (softcover); 9781532016615 (hardcover); 9781532016622 (eBook)
Available at the iUniverse Online Bookstore, Amazon, and Barnes & Noble
About the author
Michael Sales was an avid outdoorsman during the seven years in which he lived in Alaska. He attended college classes in Alaska, learning about fish and wildlife management, and underwent firearm training with the Alaska State Department of Fish and Game. Sales was an officer candidate in the US Army assigned to an Air Defense Artillery unit and completed application processes with three different federal law enforcement agencies. He has always been creative and works in many different art mediums. Sales currently resides in Twisp, Washington, where he continues to write. To learn more, please visit http://www.michaelsalesfiction.com.
###
General Inquiries:
LAVIDGE – Phoenix
Bryan Beach
480-306-6554
bbeach(at)lavidge(dot)com
Review Copies & Interview Requests:
LAVIDGE – Phoenix
Kiersten Woglom
480-998-2600 x 586
kwoglom(at)lavidge(dot)com