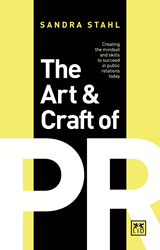 Public relations has the power to do more than communicate. Sandra shows us how and why that is so important. —Mike Fernandez, US CEO, Burson-Marsteller
NEW YORK (PRWEB) February 27, 2018
In today's continuous loop of news releases, influencers, videos, tweets, posts, 'grams, and snaps, it can be difficult to determine where the discipline of public relations begins and ends, and more importantly, what distinguishes effective PR to enable its continued growth.
"The Art & Craft of PR: Creating the Mindset and Skills to Succeed in Public Relations Today" (LID Publishing, 2018) is PR veteran Sandra Stahl's answer for practitioners of PR, from students through senior-level executives. Drawing on decades of experience in agency and corporate positions, and as an adjunct professor in the Branding + Integrated Communications graduate program at The City College of New York, Sandra has created a user's manual of skills that distinguish PR as integral to meeting organizations' needs and business challenges.
Concise, clear-cut chapters are punctuated by applicable, real-world insights from communications leaders at corporate, agency, and industry powerhouses including Burson-Marsteller, Chevron, Edelman, Levi-Strauss, and the Holmes Report.
From the prologue that makes the case for resetting the balance between the discipline and the practice of PR to the chapters focused on listening, creativity, fundamentals, and agility, Sandra offers straightforward guidance. The "Messages from the Masters" chapter begs to be bookmarked as food for thought during the morning commute and posted as a daily mantra.
"The Art & Craft of PR" is available for pre-order on Amazon (retail price: $14.95) and will be released for sale March 20, 2018 in the US and June 21, 2018 in the UK.
Advance praises include:
"Public relations has the power to do more than communicate. Sandra shows us how and why that is so important." -Mike Fernandez, US CEO, Burson-Marsteller
"This book does a wonderful job of defining what PR is in a changing environment. It is great for practitioners as well as young people. I can't wait to give it to my granddaughter who is thinking about a PR career. In clear, inspiring language, it explains what we do." -Charlotte Otto, former Global External Relations Officer, Procter & Gamble
"The 'Art & Craft of PR' is not only a great introduction to PR for those new to the discipline, it also has plenty of a-ha's and insights for the seasoned pro. I recommend it wholeheartedly." -Chip Walker, Director of Brand Strategy, Bloomberg Media
About Sandra Stahl
Sandra is a published thought leader in public relations strategy and audience connectivity. She has authored articles for "AdAge," "PRWeek," "PM360," "Pharmaceutical Executive," "Fox News" outlets, "WomenEntrepreneur," and the "Journal of the American Dental Association," among others. In her agency and corporate positions, and as co-founder of jacobstahl since 2003, Sandra has shaped communications strategies and campaigns for companies of all sizes, from leading multinationals to start-ups, as well as non-profit organizations and academic institutions. Sandra is on faculty at the Brand + Integrated Communications graduate program at The City College of New York. She lives in New York and is married with three children. Visit: http://jacobstahl.com/
About LID Publishing
LID Publishing specializes in working with business authors and organizations to help them develop content to promote their brand, message, and expertise. Founded in 1993, LID has over 1,700 authors and continues to add approximately 120 new titles each year. Visit: http://lidpublishing.com/