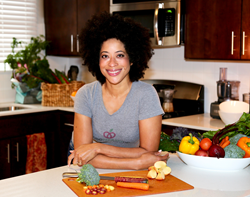 "Our motto at FoodTherapyMD is 'food is medicine,' and that is something I have come to truly believe in."
Los Angeles, CA (PRWEB) February 23, 2018
FoodTherapyMD, a Los Angeles-based health information center, is proud to announce the start of its new consultation service, entitled "Second Opinion." Second Opinion aims to provide patients with alternative methods to treat illnesses and manage their health without relying on the heavy use of pharmaceuticals, so common in today's treatment plans. By tailoring a patient's diet using unique properties in plants, Second Opinion is able to specifically address a variety of health conditions.
Second Opinion consultations are available with FoodTherapyMD's resident physician, Stacy Mitchell Doyle, MD. After receiving her degree from UCLA's School of Medicine, Dr. Stacy opened her own practice in Internal Medicine and treated patients there for nearly two decades, often developing "food prescriptions" tailored to specific health conditions such as hypertension, diabetes and cancer. A long-time advocate of plant-based diets, Dr. Stacy is thrilled to now be able to fully commit her time and extensive knowledge of evidence-based, plant-centric nutrition to help people through her work with FoodTherapyMD.
"Our motto at FoodTherapyMD is 'food is medicine,' and that is something I have come to truly believe in," explained Dr. Stacy. "I have witnessed, first-hand, the tremendous benefits that transitioning to a plant-based diet can have on a person's health; benefits that can be achieved without a reliance on prescription drugs," she added. "Second Opinion provides a personalized path for people to treat not only the symptoms of an illness, but the root cause of the problem as well."
In addition to offering consultation services to individuals, FoodTherapyMD is also offering Second Opinion to physician groups and corporate initiatives. Businesses looking for ways to improve the health and wellbeing of their employees, or medical professionals seeking to learn more about plant-based nutritional protocols are encouraged to reach out.
To schedule a Second Opinion with Dr. Stacy, or to inquire about a group consultation series, interested parties can complete a brief application on the FoodTherapyMD website.
About FoodTherapyMD
FoodTherapyMD is the brainchild of Dr. Stacy Mitchell Doyle, MD – or Dr. Stacy as she is known by her patients. After completing medical training and residency at UCLA Medical Center, Dr. Stacy obtained her board certification in Internal Medicine and set up private practice in Los Angeles. But after nearly two decades, Dr. Stacy realized that she was participating in a failing medical system, and she began to treat her patients using plant-based nutritional protocols. FoodTherapyMD takes the concept of food as medicine to the next level. Not only do they promote whole, plant-based diets for disease management and longevity, they recognize that phytonutrients, the things that make plant food so amazing, can be tailored to fight specific disease states.