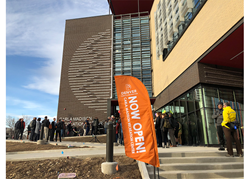 Unique features like the rooftop event space which opens up to the sounds and sights of the city and the fitness center's large garage doors make this building a true knockout
DENVER (PRWEB) February 22, 2018
The sun came out just in time on January 8, 2018 for the grand opening of the Carla Madison Recreation Center.
The grand opening was kicked off by Allegra "Happy" Haynes, Executive Director of Parks and Recreation for the City and County of Denver, as well as Michael B. Hancock, Mayor of Denver, in front of approximately 200 attendees.
At 67,522 sf, this is Denver's largest community recreation facility and the crown jewel of the City's community recreation program. With a unique design set as a four-story structure, it offers an eight-lane pool, a leisure pool for families, a large cardio-weight room, full-size basketball court and diverse programming that promote healthy and active lifestyles. The facility also includes ample community gathering space to support a variety of neighborhood interests.
Located at Colfax Avenue and Josephine Street, the center fulfills the City's long-standing need for a centrally located facility. In addition, the new center serves as yet another catalyst along the Colfax business corridor to help drive economic growth and transform the area into a thriving cultural and residential area. The facility is targeting LEED Gold certification.
"I'm proud of the fact that we can deliver the people of Denver this world-class recreation center," said Michael B. Hancock, Mayor. "We want to thank the Anschutz Foundation for the grant which allowed us to finish this facility, Barker Rinker Seacat Architecture for designing this beautiful facility, and Adolfson & Peterson Construction for seeing this project through its final stages."
Attendees of the grand opening were invited in to explore the new recreation center and participate in the unveiling of former councilwoman Carla B. Madison's portrait in the main lobby. In addition to the ample space for the fitness center, basketball courts, exterior climbing wall and swimming pools, the recreation center boasts a rooftop event space with views of the city skyline, state capitol and the Rocky Mountains.
"I'm honored that Adolfson & Peterson could play an integral role in bringing this recreation center to Denver," said Tom Bailey, P.E., Senior Project Manager for Adolfson & Peterson. "Unique features like the rooftop event space which opens up to the sounds and sights of the city and the fitness center's large garage doors make this building a true knockout."