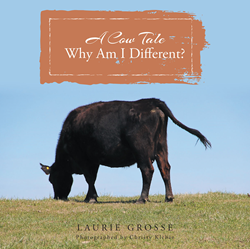 MENA, Ark. (PRWEB) February 26, 2018
What kid doesn't love a cow? "A Cow Tale: Why Am I Different?" is a charming children's story about a new cow at Cross C Ranch and the life lesson she instills with the herd about embracing uniqueness and reveling in the diversity of others. It is by focusing on the beauty of their differences that the cows rediscover joy.
Life at Cross C Ranch used to be wonderful. But lately, there isn't a lot of happiness to be found. The cows fret and fuss about how they look: the color and style of their hair, their spots, and any other differences they notice. Day after day the cows complain – about everything. "Why am I different?" is on everyone's mind. That is until a new cow comes to visit...and the cows learn to appreciate their uniqueness. The grass tastes sweeter and the water feels cooler when the cows stop fretting about their looks and learn to accept themselves as God made them and truly love their differences.
Published by Christian Faith Publishing, "A Cow Tale: Why Am I Different?" is the creation of children's author, Laurie Grosse, who lives on a cattle ranch in Arkansas. The story comes alive through the accompanying photography that captures the cows' personalities.
"A delightfully-told tale about being uniquely special, 'A Cow Tale: Why Am I Different?' will charm your young children as they learn to be happy with who they are." Dr. Thomas MacMahon, Licensed Professional Counselor
"Most children go through a stage when they wonder why they are so different from everyone else. Some sadly never grow out of it. 'A Cow Tale: Why Am I Different?' read at an early stage of life, will help children realize that we are all different and that's okay." Rev. Jim Henderson, Sager Creek Community Church
View a synopsis of "A Cow Tale: Why Am I Different?" on YouTube.
Consumers can purchase"A Cow Tale: Why Am I Different?" at traditional bookstores, or online at Amazon.com, Apple iTunes store, and Barnes & Noble.