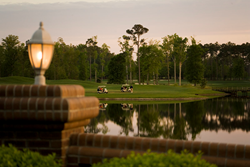 We look forward to resolving this issue fairly and equitably. -- Mark Saunders
OCEAN ISLE BEACH, N.C. (PRWEB) February 23, 2018
The Ocean Ridge Master Association, which is the property owners' association for Ocean Ridge Plantation®, and the developer of Ocean Ridge have jointly selected Mark Hamlet, a respected lawyer with Hamlet & Associates, PLLC in Wilmington, NC, to mediate the pending lawsuit between the parties regarding overbilling of assessments by the owners' association. The series of events leading to the lawsuit, filed in Superior Court of Brunswick County, NC, last year (16 CVS 2340), began when the governance of the association was turned over to board members elected by the property owners. The protective covenants called for the developer to be exempt from property assessments beginning at the time of the turnover. The exemption provision was allegedly overlooked, and developer companies managed by Mark Saunders continued to be billed and paid for assessments on home sites they owned.
Mark Hamlet is certified by the North Carolina Dispute Resolution Commission as a mediator for NC court mediations and is a member of the New Hanover County and NC Bar Associations. He formed Hamlet & Associates, PLLC in May of 2012.  Hamlet & Associates, PLLC assists parties in dispute to identify the issues that need to be resolved and guides them through the decision-making process. 
The mediation is projected to occur prior to May 1, 2018, assuming the parties are not able to resolve the lawsuit prior to the mediation.  "We look forward to resolving this issue fairly and equitably," stated Mark Saunders, manager of the developer companies. Visit http://www.oceanridge.com for more information.
Ocean Ridge Plantation is a residential beach and golf club community in coastal North Carolina featuring four championship golf courses, world-class amenities and exquisitely designed homes. The moderate North Carolina coastal climate and abundance of coastal activities, including an oceanfront beach club, contribute to Ocean Ridge being a perennial award-winning community. Visit http://www.oceanridge.com for more information.