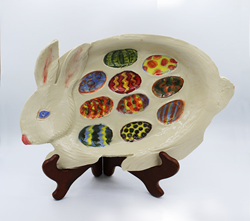 Students will have the opportunity to use colorful underglaze paints to create a one-of-a-kind piece.
WAYNESBORO, Pa. (PRWEB) February 23, 2018
Franklin County Visitors Bureau recommends making an Easter keepsake at the Waynesboro Ceramic Arts Center. During a 2-hour session on Thursday, March 8 from 7-9 PM, Carolyn Baker will guide students step-by-step to make their own ceramic Easter egg plate. The cost of the class is $30 and it includes all materials, glaze, and firings. Students will have the opportunity to use colorful underglaze paints to create a one-of-a-kind piece. Each egg tray is made from durable white stoneware clay and will be one of the highlights of Easter dinner.
The Ceramic Arts Center of Waynesboro, located at 13 South Church Street, offers special programs and classes throughout the year. It brings together potters of all skill levels and ages.
The Ceramic Arts Center is just one member of Waynesboro's Destination Arts experience, which started in 2013 as a community revitalization project. With the support of a core of dedicated volunteers, seven vacant commercial building were transformed to curated art galleries. Each week features different activities, class opportunities and entertainment. Every Wednesday 46 West Main Street hosts live music. From acoustic folk, and jazz to bluegrass and piano rock, it is an amazing display of talent. Every Friday is a Wine Down Friday, a mainstay of Gallery 50, appropriately located at 50 West Main. Gallery 50 offers multi-media art from local and regional artists, jewelry, cards, and handmade soap. Gallery 35, at 35 East Main Street, features fine art photography, illustrations, oil and watercolor paintings, and two-dimensional art.
The Franklin County Visitors Bureau invites all to explore trails of history, arts and architecture, recreation, natural beauty, fresh foods, and the warm hospitality of communities like Waynesboro, Chambersburg, Greencastle, Mercersburg, and Shippensburg. Franklin County PA is located just north of the Mason Dixon Line and is an easy drive to Washington DC, Philadelphia, and Pittsburgh. Discover more. Plan a visit soon at ExploreFranklinCountyPA.com or by contacting 866.646.8060.