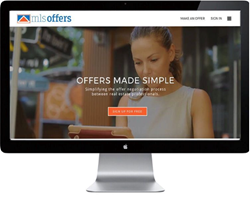 Our goal is to become the most accepted method of offer communication between agents.
LAS VEGAS (PRWEB) February 27, 2018
MLS Offers is an exciting real estate technology startup led by industry veteran Alan Fenn. Their software as a service (SaaS) platform simplifies and standardizes the offer submission, negotiation and management process for real estate agents. Growth has been strong since coming out of beta 6 months ago and they now have users in 42 states, spanning more than 200 Realtor® associations.
MLS Offers provides a free service that organizes and adds much needed transparency to agent-to-agent offer communications. Through its user-friendly interface, both parties can easily share and manage all offer terms, docs and correspondence in one centralized location and in a uniform format. Much like email replaced faxed offers 20 years ago for increased efficiency, agents are now replacing email with MLS Offers for the same reason.
CEO Alan Fenn said, "With MLS Offers, we have created a standalone offer platform that serves all agents, regardless of the amount of business they do, the niche they serve or how much money they have to spend on software. Our goal is to become the most accepted method of offer communication between agents. To do that we knew our service needed to be free and we had to provide a clean and simple interface with no learning curve. That is what agents will find with MLS Offers."
With MLS Offers, the listing agent is in control of the offer process, which is different than other offer technologies on the market that cater to buyer agents. This is significant because, by placing a link in their Multiple Listing Service (MLS) offer instructions, listing agents ensure they are able to receive and manage all their offers across all their listings in a clean and professional environment.
The current offer process in the industry is messy, especially for agents that have multiple listings and receive multiple offers, which is common in the low inventory environment that most of the country is experiencing. In addition, agents with teams, assistants, or transaction coordinators that need to collaborate on offers often get disorganized and frustrated forwarding emails back and forth to each other. Having a centralized location to review and reply to all offers is ideal.
The real estate market is moving fast toward end-to-end online real estate transactions and the offer submission through acceptance stage of the transaction is the most integral. MLS Offers has a granted patent on this technology that they say will allow them to control the online offer space in the industry.
The team behind MLS Offers was the first to bring online offer submission and negotiation to the real estate market in 2009 as an ancillary feature of another transaction management platform they operate called eBrokerHouse. Through that paid subscription platform that serves a very niche market, they have facilitated over 2.5 million offers and over $60 Billion in closed transactions for agents. So this team obviously has a lot of experience in this space.
MLS Offers recently partnered with the Miami Association of Realtors® (MIAMI), which is the largest local Realtor® association in the country with 46,000 members, and integrated their service into their Matrix MLS platform. "While an MLS integration is not needed for agents to use MLS Offers, it provides significant benefits that enhance the user experience for their members," said Fenn.
The integration has resulted in very strong adoption in the Miami market. Nearly 40% of MLS Offers' users nationally are now in this market due to the MLS integration. "We are now taking this integration template to other MLSs across the country. We recently signed two additional MLS partnership agreements that we will announce soon and we are in talks with several others. I believe 95% of agents still don't know that we exist, so the sky is the limit," said Fenn.
To learn more visit: http://www.mlsoffers.com.