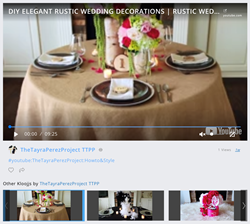 "Kloojj is changing the way we share and watch videos." -Viiper Gaming, YouTube Influencer
SCOTTSDALE, Ariz. (PRWEB) February 24, 2018
Kloojj™, a new social media & video clipping platform, is changing the game for video content creators and YouTube influencers are taking notice.
"Say goodbye to searching, and organizing vids. Waste no time with Kloojj." - The Tayra Perez Project
"I've been using Kloojj to clip, organize, and share specific parts of videos. Unique features such as being able to set the clip endpoint, and use the Klooj hashtag sub tag system to organize the clips are fantastic. Those features allow me to easily save, share, and comment on just a specific part of a YouTube video. Also since Kloojj is playing the source content, there is no copyright or free booting issues. The original content creator gains the views and watch time from Kloojj. Now I can Kloojj clip just the useful parts of anyone's videos, which is a fantastic feature that I'll be using a lot." - Netcruzer RC TECH CARS
Kloojj™ gives its users the ability to create Kloojj Clips (Kloojjes) inside of online video, saving just the memorable moments to watch again later or share with friends. In response to the feedback from several influencers, Kloojj™ has released a new set of tools designed to help influencers increase viewer engagement and grow their following. Today's announcement includes:

Social Profile Links - Influencers can now display links on their Kloojj profile to each of their social profiles such as YouTube, Facebook, Twitter, Instagram, Google+, iOS and Android app store links, and to their website or blog.
One-Click Kloojj All Your YouTube Channel Videos – With one simple click, influencers can automatically create a Kloojj for every video in their YouTube channel. For Influencers with YouTube channels containing hundreds of videos, this feature allows them to effortlessly add all their videos to their Kloojj profile. This gives them an instant presence on Kloojj! This feature also allows them to add multiple channels and automatically separate them using Kloojj's unique tagging system.
Embed a Kloojj in Your Site - Embedding a Kloojj in a blog post or web page has major advantages, including the newest feature that displays a thumbnail image carousel of other relevant Kloojjes from the user's Kloojj profile. This feature gives influencers' content more exposure to viewers, unlike other video embeds that display content from other publishers. Another major feature (announced today, but won't be released until sometime next week), is the ability for users to explore other Kloojjes inside the same video, similar to a table of contents. "We are very excited about this feature because influencers can now post a video that contains several Kloojjes, each highlighting a different topic inside the same video, which makes it much easier for viewers to explore all the topics inside a video and jump directly to the most interesting clips.", said Co-CEO David Hirschfeld. An additional benefit when using Kloojj is that the video is streamed from the original source, allowing influencers to get views on both Kloojj and the original platform, while simultaneously highlighting their own content.
"We have a big roadmap of features scheduled to roll out throughout 2018. Our mission is to innovate fast and focus of what users want most," said Kloojj Co-CEO, Ted Haig.
You can sign up for Kloojj for free at https://www.kloojj.com/ or in the apple/android store and if you are an influencer or content creator, you can apply to become an Official Kloojj Launch Partner Program.