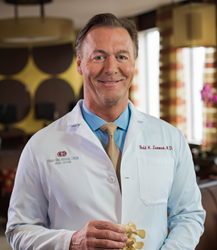 LOS ANGELES (PRWEB) February 23, 2018
In her early 50s, celebrity trainer Andrea Leigh Logan was in so much pain from degenerative disc disease in her neck that most days she couldn't pick herself off the floor, let alone aggressively train clients, describing the excruciating pain she suffered daily as being akin to a knife being forced into her neck bones.
The fusion she had done more than a decade and a half prior had almost entirely limited her range of motion in her neck and worse, had caused degeneration of her adjacent cervical discs.
Logan had been prescribed all sorts of pain management drugs from epidurals to nerve pain medication, all of which had failed. That's when she turned to world-renowned spine surgeon Dr. Todd Lanman of Lanman Spinal Neurosurgery in Beverly Hills for answers, and what she got was her life back.
Further testing, including motor and sensory exams to CAT Scans and MRIs, indicated that Logan, like many other patients with degenerative disc disease or fused discs, had relatively no ability to rotate, extend or flex her neck and had bone spurs and pinched nerves caused by herniated discs, causing numbness, tingling and weakness in her limbs.
Only a year after he had acted as the principal investigator on a 10-year-long clinical trial of the FDA approved Artificial Cervical Disc Replacement procedure using the Medtronic Prestige LP device, Lanman was once again implanting artificial cervical disc replacement devices in Logan's neck at various levels, as well as removing the plate and screws from her previous fusion.
The minimally invasive procedure was a complete success, and Logan was not only working out at the gym only 10 days post-op, but was resuming aggressive crossfit workouts only three weeks later. Since then, she has also returned to her role as a celebrity fitness trainer without pain and with full range of motion, thanks to innovations in spinal health and artificial disc replacement.
Logan is just one piece of a larger mosaic of lives that have been changed and careers that have been saved due to this new advancement in spine medicine, chiefly led by Lanman, widely considered at the forefront of artificial disc replacement surgery and motion preservation.
For more information on Dr. Todd H. Lanman, visit http://www.spine.md.
About Dr. Todd H. Lanman
One of the world's foremost spine surgeons and artificial disc replacement innovators, Dr. Lanman has been a specialist in the advancement of spinal health and surgery for more than 25 years. He is a regular media contributor and has published more than a dozen peer-reviewed clinical articles. His clients include many high profile celebrities from the worlds of music, film, theater and television, as well as business leaders from around the world. Lanman Spinal Neurosurgery is affiliated with Cedars-Sinai Medical Center's Institute for Spinal Disorders, UCLA Medical Center and Saint John's Medical Center. For more information, visit http://www.spine.md.
###