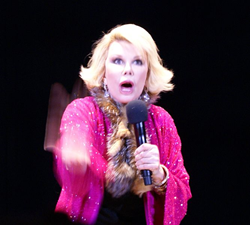 Let me first of all say to them, which I always say, better a new face coming out of an old car than an old face coming out of a new car
NEWPORT BEACH, Calif. (PRWEB) February 27, 2018
A February 20 article on People reports on highlights from a newly released interview with the late comedian Joan Rivers. The interview, recorded not long before Ms. Rivers passed away in 2014, includes her characteristically frank comments about one of her favorite subjects, plastic surgery. The comedian strongly recommended procedures for just about anyone who thinks that altering some aspect of their face or body would help them feel better about themselves. Her practical attitude is exemplified in her comparison of obtaining a plastic surgery to other purchases: "Let me first of all say to them, which I always say, better a new face coming out of an old car than an old face coming out of a new car….Never mind the shoes, get the nose." Orange County based plastic surgeon Dr. Michael Jazayeri says that, while Ms. Rivers' was joking, as with most good jokes, there is also some truth in it.
While gossip writers and others may make snarky remarks implying that there's somehow something morally questionable about getting procedures, Dr. Jazayeri says that the word is spreading that today's plastic surgery is effective and safe enough that it can and should simply be seen as a another tool any man or woman can take advantage of. He notes that almost no one looks askance on people dressing up or changing their hairstyle to hide perceived flaws or highlight their best features. He adds that while plastic surgery obviously involves a much more serious commitment than hair, clothing, or makeup, we're also realizing that it's not as different from those as most people once thought.
Dr. Jazayeri adds that, as procedures have been refined over the years, they are now not only more effective and safer; they offer more rapid recovery times compared to the past. Among the streamlined procedures, he includes the fat transfer technique for buttock augmentation popularly known as the Brazilian butt lift. The operation, which takes unwanted fat from elsewhere in the body, allows a skilled plastic surgeon to reshape buttocks in a flattering manner that patients agree looks and feels incredibly natural, says the plastic surgeon. He adds that, whatever kind of procedures patients obtain, it's all about looking and feeling one's best – something that shouldn't bother anyone.
Readers who are would to inquire about obtaining a procedure with board certified plastic surgeon Dr. Michael Jazayeri at either his Newport Beach or Santa Ana offices may call 714-834-0101 or visit his web site at http://www.drjaz.com.