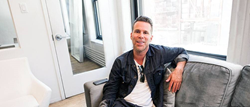 LOS ANGELES (PRWEB) February 22, 2018
Scott Lipps, renowned modeling/celebrity agent and head of Lipps LA located at the Dream Hotel in Hollywood, has won the "Best of Los Angeles Award" for "Best Visionary Modeling Agency" 2018, adding it to his already long list of accolades. Describing his prominent new business, Lipps says, "we have constructed a vertically integrated agency, packaging content creation, model / celebrity management & audience building to create a one stop shop for talents & brands in the form of a digital agency."
When asked about his goals for the company, Mr. Lipps had this to say: "Honestly, for me it's always about building the biggest entertainment-related company you can build. That's always my ultimate goal in anything that I do. The models are first and foremost, and what I've done for 25 years. There's a huge celebrity presence in LA, which is very exciting because I've represented a lot of celebrities over the years in New York, and this is where they are based. From a digital perspective, I would love to disrupt the business and do things differently. We'll have the traditional model calling and the celebrity representation in the digital sense, but we're also building out a whole side of things that aren't done yet, including brand consulting and content development and working to market brands along with our talent, and packaging it together."
The "Best of Los Angeles Award" community was formed three years ago and consists of over 3,800 professional members living and working in Southern California. It celebrates the best people, places and things in Los Angeles with a slogan "No Ads. No B.S. Only the Best." (https://www.facebook.com/BestofLosAngelesAwards/)
"The mission of the community is to celebrate the best of Los Angeles, and allow its community members to connect with other members who share the highest standards of quality and integrity," said community spokeswoman Aurora DeRose.
"I am honored to receive this award from the Best of Los Angeles Award," says Lipps. "Everyone here at Lipps LA works hard every day to deliver the best results for our clients."
To learn more about Scott Lipps and Lipps LA, please visit: https://www.lipps.la/