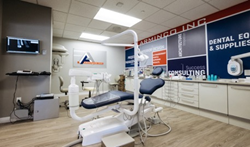 "I incorporated Arminco's colors, along with some patterns to give the space a larger feel and appearance."
STERLING, Va. (PRWEB) February 22, 2018
Arminco Inc. has redesigned and updated Protech Dental Lab Inc.'s training operatory. A company with a similar all-encompassing attitude for client satisfaction, professionalism and premium service, Arminco is proud to partner with Protech Dental Lab to provide a comfortable and safe space for dentists to get proper training and practice performing procedures prior to working on patients.
In the continuously growing and evolving dental world, it is paramount to be up to date on the latest technical and surgical skills, maximizing each patient's safety and satisfaction. For this reason, Protech offers an education room, where seminars, CE courses and additional training sessions are held for doctors and medical technicians to obtain the adequate knowledge to be able to provide exceptional service to their patients.
Arminco's graphic designer, Rokhsana Boroun designed the room with an emphasis on the wall wraps to give the space added color, movement and a larger appearance.
"I wanted the wrap to embody Arminco's services and offerings. I incorporated Arminco's colors, along with some patterns to give the space a larger feel and appearance."
Arminco also equipped the space with various pieces of equipment including Cefla dental chairs, an Imageworks wall X-Ray, and a variety of commonly used supplies for sustaining the successful operation of Protech Dental Lab.
About Protech Dental Lab Inc.
Since Protech Dental Lab's establishment in 1997 as a one man laboratory, it has evolved into a nationally acclaimed laboratory for quality restorations using the finest materials and products to produce unparalleled results.
About Arminco Inc.
Arminco has evolved from a family-run design-build firm to a comprehensive dental practice developer. The firm's capabilities include architecture and design, construction, project management, dental equipment and supplies, and dental equipment service. Arminco is a valuable resource for dentists who are building or remodeling their dental clinic. Arminco serves a wide range of dental clients throughout the mid-Atlantic region as well as nationally. Arminco has been providing superior services since its formation in 1995. For more information, visit the company website at http://www.armincoinc.com.