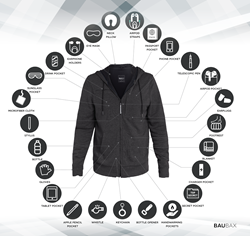 Just like the original, BauBax 2.0 is made to solve all travel-related problems in one jacket.
SEATTLE (PRWEB) February 23, 2018
The world's best travel jacket just got better. BauBax 2.0 has flown out of the gate with its encore travel jacket, raising more than $1 million on Kickstarter once again.
BauBax 2.0 brings even more comfort and joy to travelers with 10 more features than the original travel jacket which was dubbed "the Swiss Army Knife of Travel Wear."
The BauBax 2.0 campaign represents the company's second million-plus campaign on Kickstarter. The first BauBax Travel Jacket raised $9.2 million on Kickstarter to become the most funded apparel and travel product in crowdfunding history.
Just like the original, BauBax 2.0 is made to solve all travel-related problems in one jacket.
In addition to its stylish design, BauBax 2.0 comes with 25 features including a built-in neck pillow with one-press deflation, travel footrest, eye-mask, travel blanket, detachable gloves, battery charger pocket, AirPod straps, drink pocket holder, microfiber cloth to clean sunglass lens, a foldable travel bottle, earplugs, a stylus/pen combo zipper and many more (full list of 25 features here).
The jacket is designed with special storage areas for passports, wallets, tablets, smartphones, earphones, sunglasses, an Apple pencil, AirPods, portable chargers and every important item.
With BauBax 2.0 travelers can fly through airport security with ease. Instead of scrambling to unload pant pockets and trying to find ID, BauBax's strategic pockets give quick access to a passport and boarding pass and then everything else is in the Jacket to take it off and slide through the scanner.
BauBax 2.0 is also a versatile, stylish and functional jacket for all activities beyond travel including daily commutes, hiking, weekend fun and everyday use. It's available for men and women in four styles: sweatshirt, bomber jacket, windbreaker and vest.
For more information and to order at early-bird discounts during crowdfunding, visit the BauBax 2.0 Campaign Page on Kickstarter.
About BauBax
BauBax LLC is a Seattle-based company focused on developing travel outerwear, co-founded by serial entrepreneur Hiral Sanghavi and Yoganshi Shah. BauBax solves problems faced by travelers around the world with their innovative multi-feature travel jackets. Yoganshi Shah, founder and chief design officer at BauBax, is a 'User Experience Designer' and a professional ergonomic design expert with a knack for making products, processes, and interfaces simpler and visually appealing. For information, visit BauBax.com.